ETUC Deputy General Secretary Peter Scherrer will present the prestigious Silver Rose Press Freedom Award to Uğur Güç, President of the Journalist Union of Turkey (TGS), in a ceremony in the European Parliament today.
The award is made annually by SOLIDAR, the European network of 60 Civil Society Organisations working for social justice worldwide. This year's winner is a distinctively political choice supporting jailed journalists and promoting solidarity between journalists in Turkey and abroad.
"At a time when journalists in Turkey face severe threats, and when some of them have been condemned to years in prison just for doing their jobs, I commend SOLIDAR for this award, which symbolises a strong stand against deteriorating press freedom in Turkey," said Peter Scherrer. "Turkey is among the world's worst persecutors of journalists. I am very proud to deliver a prize that highlights the importance of free speech and protecting workers' rights."
TGS is affiliated to ETUC member Türk-Is, the Confederation of Turkish Trade Unions. It aims to protect and strengthen the rights and freedoms of journalists, to promote labour rights, social justice, democracy, professional and ethical standards, press freedom and international solidarity. 
The three other 2016 winners chosen by SOLIDAR, are:
FairWork, a Dutch organisation fighting for just and decent working conditions in the Netherlands and elsewhere.
Dr Nagham Nawzat Hasan, an activist and gynaecologist from Iraq, who provides psychological counselling and health screenings to Yezidi girls and women, enslaved by the Islamic State (IS).
La Ligue de l'enseignement, a French civic movement for universal access to education and culture.
Picture from TGS source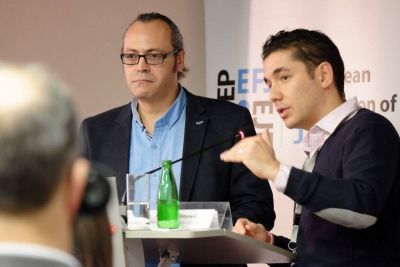 14.06.2016