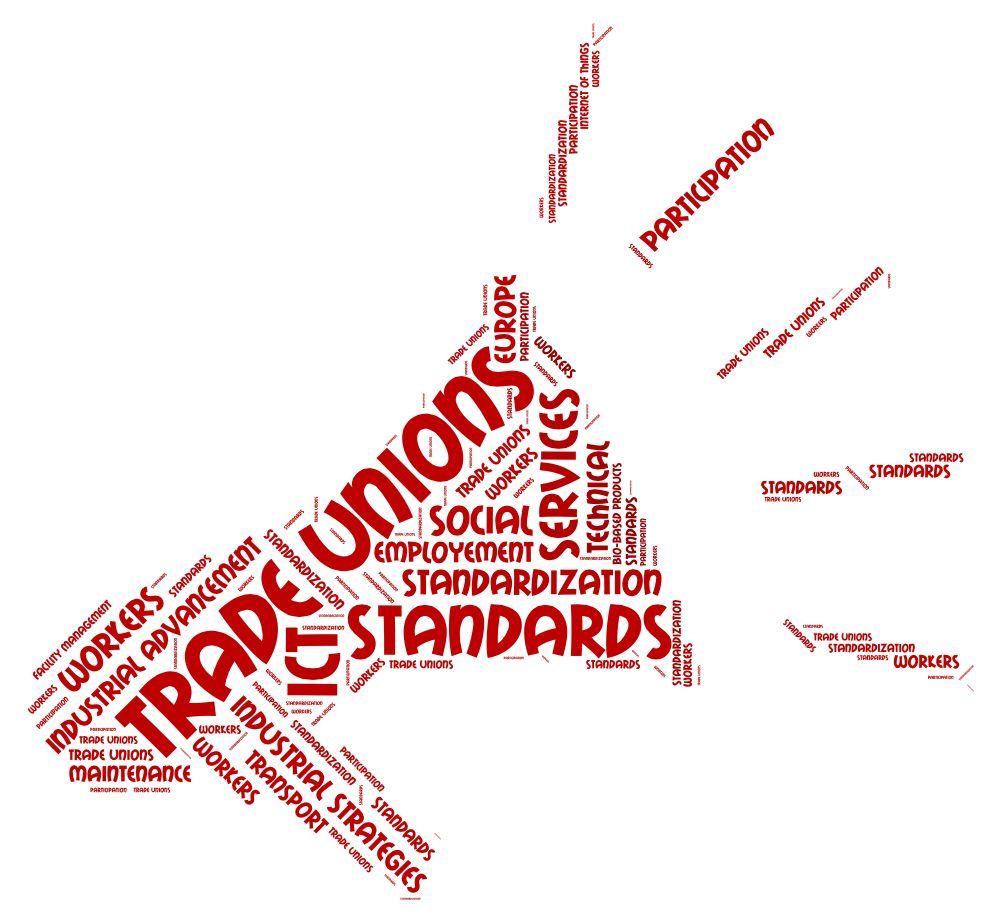 The following points highlight the growing political significance of European and international standardisation. They provide background information on the world of standards as well as the main rationale for trade union action in standardisation. In short, the relevance of standards for trade unions is multifaceted. The extending scope of European and international standards, their role in framing market competition and industrial strategies as well as the devolution of power to standard-setting bodies provide a strong rationale to strengthen a trade union action in standardisation taking stock of the opportunities and perils associated with this new form of regulation in contemporary capitalism.
The extending scope of standardisation
While standards are usually invisible, they are ubiquitous. Standards are so-called voluntary technical specifications explicitly documented, published and sold as tools used in the organisation of production and exchange of goods and services. More than a decade ago, the OECD has estimated that "up to 80% of trade (equivalent to around $4 trillion annually) is affected by standards or associated technical regulations"[1]. More importantly, the reach of standardization has extended beyond product safety and interoperability to affect a wide range of issues such as occupational health and safety management system, sustainability, open source software, nanotechnologies or postal services. As such, the significance of international and European standards not only pertains to their growing share in the economy, but also to their impact upon the organisation of production and working conditions! 
Devolution of power to standard-setting organisation
European and international standardisation is increasingly promoted as a new form of regulation in contemporary capitalism. The entry into force of the World Trade Organisation Technical Barriers to Trade Agreement in 1995 gave international standards a major role in harmonising the technical specifications of goods traded on the global markets so as to avoid such specifications to be turned as an impediment to international trade. At the European level, in 1985, Council Resolution 85/C 136/01 on a 'new approach' to technical harmonisation and standardisation instigated a new regulatory technique by providing a framework for the harmonisation of EU public law only for the general and essential requirements of goods traded on the European market, particularly in the fields of health and safety, environment and consumer protection. Depending on the sectors affected, technical specifications are either based on mutual recognition of national standards or delegated to private organisations, i.e. the European standardisation organisations. More recently, the adoption of the Regulation 1025/2012 on European Standardisation revising the new approach lead to its extension to the field of services while also recognizing the importance of an effective participation of the "European stakeholder organisations" representing societal interests in the European standardisation process, such as trade unions.
Standards as a tool for industrial strategies and competition
The relevance of technical specifications for workers also encroach upon wider market competition and industrial strategies. Standards are increasingly used as quality marking instruments enabling products/services differentiation on the market according to quality rather than pricing. As such, taking part to standardization activities provides a mean to define general and/or sectorial market referentials framing relevant dimensions on which market competition takes place - and thus also framing the competitiveness of entire economic sectors. Standardization may help to foster a competitiveness agenda focusing on quality rather than price and thus promoting the high quality and advanced know-how of European businesses and work forces. Moreover, technical specifications are an important industrial strategic tool. By defining the properties and/or production processes of products and services, standardization processes affect the added-value creation process. They may contribute to shift the added-value creation along transnational production chains that will in turn impact the localisation of employment and of job creation. Participation in standardization is thus enabling trade unions to have a better grip on the location and shift of value creation processes and underlying consequences for workers.
Standardisation in the quest of legitimacy?
The growing political significance of European and international standards reinforces enduring questions about their legitimacy: who decides about the content of standards and their drafting rules? What can/should be standardised and not? What are the mechanisms ensuring standards can contribute to create some order in ruling market practices? These are among the main questions upon which trade union action in standardisation encroach. Even though national trade unions have been occasionally involved in standard setting process, it is widely acknowledged that most national and European standardisation organisations are characterized by an important democratic deficit. While conventional explanations emphasise the lack of time, expertise and resources of trade unions and societal stakeholders to effectively participate in standard-setting activities, more fine-tuned understanding of their under-representation include difficult access to standardisation activities, complexity of standard-setting procedures as well as the risk of legitimizing forms of private regulation failing to ensure a democratic decision-making process. As such, while the ETUC STAND project is aimed at sustaining the voice of trade union in European standardisation, it will also provide a new opportunity to reflect on trade unions position and strategy regarding the role of European and international standardisation in the contemporary regulatory framework.
---
[1] OECD (1999), Regulatory Reform and International Standardisation, Paris, Organisation for Economic Co-operation and Development, Trade Committee Working Party, p.4.