Almost 30,000 people may lose their lives at work in the EU over this decade without action to make workplaces safer, trade unions are warning on International Workers' Memorial Day.
The number of fatal workplace accidents fell slowly over of the last decade, although progress was far from steady with deaths rising again in 2019, according to Eurostat data.
Another 27,041 workplace deaths should be expected between 2020 and 2029 if change continues at the same pace as during the last decade, an analysis by the European Trade Union Institute has found (see Notes below).
Workplace deaths are not expected to fall at all in Spain, are set to get even worse in France and wouldn't end in Europe for more than 30 years.  They could though be ended by 2030 if the political will existed.  
Number of workplace deaths expected this decade and year in which fatal workplace accidents will be eliminated in selected member states if 2010-2019 trends continue:
Poland: 563 deaths - 2027
Portugal: 481 deaths - 2030
Romania 1,451 deaths – 2036
Austria: 694 deaths – 2037
Italy: 3,434 deaths – 2042
Germany: 3,143 deaths – 2044
Czechia: 851 deaths – 2052
France: 7,803 deaths – Never
Spain: 3,191 deaths – Never 
EU27: 27,041 - 2055
The findings come as the European Trade Union Confederation launches a manifesto for zero death at work which calls on European leaders to "walk the walk" as well as "talk the talk" on saving the lives of working people.
The manifesto - which has been signed by Ministers, MEPs, trade union leaders and top occupational health and safety experts - called for an increase in workplace health and safety training, inspections and penalties to end workplace fatalities by 2030.
Half a million fewer workplace safety inspections are taking place across Europe now than at the start of the last decade, the ETUC's analysis of International Labour Organisation data has found.
As well as workplace accidents, the ETUC are also calling on EU leaders to do more to end the scandal of cancer, which still takes the lives of over 100,000 people every year, as well as protecting workers from increasing extreme weather events caused by climate change.
ETUC Deputy General Secretary Claes-Mikael Stahl said:
"Nobody should leave home worried about whether or not they will make it back to see their family after work. But that's the daily reality for many workers, often because of irresponsible employers cutting corners to increase profits and politicians who attack common sense safety rules and inspections for ideological reasons. 
"Thousands of people are still losing their lives every year in brutal – and avoidable – accidents on construction sites, in factories and at other workplaces. Millions of people have also died after being exposed daily to cancer-causing substances at work.
"While workplace deaths might seem like something from another century, these tragedies are set to keep happening in Europe for at least another 30 years. That isn't inevitable though.
"On International Workers' Memorial Day, we remember the dead and vow to fight for the living. If politicians are willing to act, we could achieve zero deaths at work by 2030. It's high time the lives of working people were made a priority."
Notes
Projection based on the European statistics on accidents at work database (ESAW), linear regression was used to predict the number of fatal accidents at work in the years to come. The number of fatal accidents at work were predicted separately for a selection of Member States, and for EU27 as a whole. For EU27, time predicted yearly fatal accidents with R² = .63, F(1, 7) = 11.7, p = .01.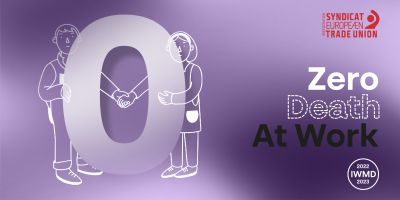 28.04.2022