A European Commission initiative on fair minimum wages is needed not only to repair the damage caused by EU economic policies following the 2008 economic crisis, but also to deal with the effects of the corona virus crisis says the European Trade Union Confederation (ETUC), on the day the Commission launched its 2nd consultation on minimum wages.
"Many working people had not got over the effects of wage austerity from the previous crisis before the new crisis hit us" said Esther Lynch, Deputy General Secretary of the ETUC.
"When standing for election, European Commission President Ursula von der Leyen pledged to ensure that every worker in the EU is paid a fair minimum wage. The consultation document released today is a step forward. It recognises the need to ensure that workers can negotiate a fair wage by strengthening collective bargaining along with measures that could increase statutory minimum wages as requested by the ETUC. At the same time, it is still not clear how the Commission intends to achieve these objectives."
"We will continue to press for a clear commitment from the European Commission to ensure that Member States raise their statutory minimum wages to the level of living wages. This means a level which is at least 60% of the median wage and that is also adequate for a basket of goods and services, agreed at national level with unions and employers.
"They also need to put in place genuine measures to support wage bargaining between trade unions and employers, because collectively bargained wages are the only way to keep minimum and all other wages fair across the EU. One way to do this would be to refuse recovery, public procurement contracts and other public money to employers who refuse to negotiate with a trade union.
"A key missing ingredient is how to reduce wage inequality across Europe because the East – West wage gap cannot be allowed to continue."
Since the corona virus pandemic hit Europe
Almost 40% of EU workers say they are worse off than they were before the crisis and over 40% say so in 13 member states (Italy, Spain, Poland, Romania, Portugal, Croatia, Bulgaria, Slovenia, Slovakia, Greece, Hungary, Cyprus and Malta)
just under 50% of workers say their working hours have decreased since the crisis started, and over 50% say so in 10 member states (Italy, Spain, France, Poland, Romania, Croatia, Bulgaria, Greece, Cyprus and Malta).  
Research shows that between 2011 and 2018 the European Commission made 50 'country specific recommendations' on suppressing wage growth and 38 on reducing job security and workers bargaining rights.
"This is about righting the mistakes of the past" said Esther Lynch, "and making sure they are not repeated following today's crisis. An ambitious and bold initiative from the European Commission is needed even more after coronavirus to deliver their promise of fair minimum wages and to boost collective bargaining. Today's announcement gives me hope we are moving in the right direction, but a lot more work and clarity are needed."   
NOTES
For the data on workers not getting over the effects of wage austerity from the last crisis see
https://www.etuc.org/en/pressrelease/workers-6-eu-countries-worse-10-years-ago  and  https://www.etuc.org/en/pressrelease/workers-share-economic-prosperity-down-18-eu-member-states
For the data on workers reporting to be worse off and having decreasing working hours see https://www.eurofound.europa.eu/publications/report/2020/living-working-and-covid-19-first-findings-april-2020#tab-04
For the research on country specific recommendations see https://emmaclancy.files.wordpress.com/2020/02/discipline-and-punish-eu-stability-and-growth-pact.pdf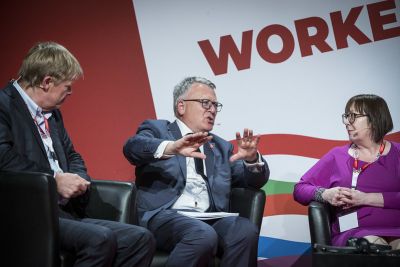 03.06.2020