The ETUC gives a cautious welcome to the agreement for EU legislation on whistleblowing and the introduction of an EU wide obligation on employers to both protect and listen to workers who raise concerns at work. The Directive requires employers with more than 50 employees to have written workplace whistleblowing procedures in place.
Responding to the late night agreement, Esther Lynch, ETUC Confederal Secretary said "Time and again in the wake of disasters and scandals we hear how workers had raised concerns about the dangers with their employers but were not listened to. This Directive should be the start of a culture change in how employers in the EU view and treat whistleblowers."
Member states will need to transpose this legislation and trade unions will be watching closely to ensure that it is implemented at national level in a way that ensures that the important work that trade union reps do in supporting workers who speak out is properly provided for in their national legislation.
The ETUC is particularly relieved to see that the late night compromise included the change in direction called for by trade unions so that workers will not need to use the mandatory internal procedure before they report their concerns straight to the authorities.
"It's too early to say that this Directive is a game changer" added Lynch "as there are a lot of potential loop holes, not the least of which is the absence of protection for those who blow the whistle on workers rights. But if member states work with trade unions on the national implmentation then it could bring about a big improvement in exposing wrong-doing and protecting whistleblowers from retaliation".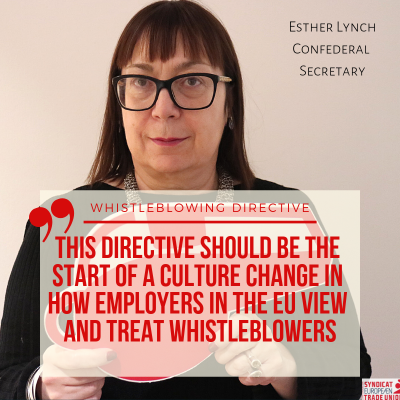 12.03.2019