Real wages are falling while real profits continue to grow in half of EU member states, new ETUC research on the cost-of-living crisis shows.  
Real wages, which indicates pay after inflation is taken into account, have fallen in every EU member state this year by as much as 9%. 
At the same time, corporate profits are rising in real terms in 13 member states, with increases of up to 6.5% compared to last year.
Across the EU, real profits are up by 1% while real wages are down by 2.5%.
13 EU member states where real wages are falling despite real profits rising
| | | |
| --- | --- | --- |
|   | Real gross operating surplus development 2022 | Real wage development per employee 2022 |
| Czechia | 0,2 | -9,2 |
| Slovenia | 0,5 | -2,3 |
| Cyprus | 0,7 | -1,4 |
| Italy | 0,8 | -2,1 |
| Finland | 1,8 | -1,3 |
| Croatia | 2,1 | -3,1 |
| Spain | 2,7 | -3 |
| Sweden | 3,6 | -3 |
| Ireland | 3,9 | -2,3 |
| Latvia | 5,6 | -4 |
| Poland | 6,3 | -2,1 |
| Portugal | 6,4 | -0,2 |
| Romania | 6,5 | -0,6 |
| EU | 0.8 | -2,5 |
Source: EU Ameco database
The analysis demonstrates that workers are the primary victims of this crisis and that it's corporate profits – not wages – which are driving inflation.
It comes after the ETUC launched a Europe-wide campaign to end the cost-of-living crisis. The campaign is calling for the EU and national governments to take the following actions:
- Pay rises to meet the increase in the cost of living
- Cap on the price of energy costs
- A tax on excess profits
- Curbs on dividend payments
The ETUC six-points plan to tackle the cost-of-living crisis can be found here. The ETUC has already shown how dividends are rising seven times faster than wages.
ETUC Deputy General Secretary Esther Lynch said:
"There is a cost-of-living crisis for workers but many corporations are enjoying a cash bonanza. 
"These figures show clearly how working people are the primary victims of rising inflation which is being driven by corporate profiteering on the back of supply bottlenecks caused by the pandemic and the war in Ukraine.
"It has left many people unable to afford the most basic essentials like food, rent or heating despite working long hours while corporations are increase payouts to shareholders.
"It's clear that companies need to share profits fairly with the workers creating them and governments should introduce a windfall tax on excess profits to fund support for those hit hardest by the cost of living crisis."
Speaking in the European Parliament in Strasbourg, workers have described the difficulties they face making ends meet. Nancy Seutin, a cleaning worker from Belgium, said:
"You have to choose the bills you have to pay. Obviously, accommodation has to come first, or you would be chucked on the streets. But then you have heating and whether to put petrol in the car to go to work. Many colleagues have said they are choosing not to heat their homes this winter.
"With regard to food, again things are very difficult. Basic food stuffs are practically unaffordable, so you have to choose. It might be a little luxury item but that's increasingly rare so we just have to manage with what we can. We can't pay everything.
"Companies that invoice their clients have huge profits and don't care at all about our welfare and that's something we need to speak out about. It's important that we act because we just can't live on a thousand euros a month."
Notes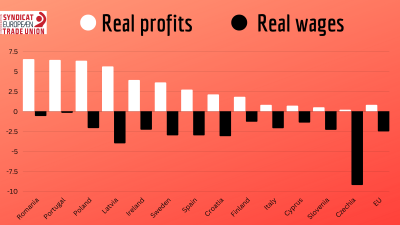 18.10.2022