Workers from across Europe have laid bare their daily struggle to make ends meet during the cost-of-living crisis, telling of their difficulties in affording food, clothing and heating.
Nancy, a cleaner from Belgium, explained how many basic food items have become unaffordable, while Javier, an agricultural worker from Spain, said he no longer has enough money to buy clothes and Victor, a policeman from Romania, said his energy bill could soon be worth around half of his salary.
The ETUC is publishing these testimonies (in full below) as part of our campaign for action to end the cost-of-living crisis including:
Pay rises to meet the increase in the cost of living - this means supporting collective bargaining
 
Increases to minimum wages to ensure their adequacy and targeted emergency payments for low-paid people struggling to afford their energy bills, along with a ban on disconnections
 
A cap on the cost of energy bills for people and a tax on excess profits being made by energy and other companies
The workers took part in an ETUC demonstration and lobby at the European Parliament in Strasbourg last week to build support for the urgent action needed to end the cost-of-living crisis.
The ETUC warned all policymakers that workers can't wait weeks or months before they see a solution.
The workers' testimonies show the reality for millions of workers which lay behind statistics showing there has been a record fall in the value of minimum wages due to inflation and energy bills now cost an average of a month's wages for the lowest paid.
At the same time, dividends paid to shareholders have exploded as corporations exploit supply bottlenecks caused by the pandemic and war in Ukraine to hike their profits, which has been the primary driver of inflation according to the ECB. 
ETUC Deputy General Secretary Esther Lynch said:
"These powerful testimonies show the real impact of inflation on the lives of working people. Inflation which even the ECB says is being driven by excess corporate profits.
"The prices of the most basic necessities in life like food, clothing and heating are now out of reach for people who work long hours in tough jobs.
"Meanwhile the bosses and shareholders of energy firms and other major companies are adding another zero to their bank accounts. This is an unacceptable injustice and cannot be allowed to continue.
"Leaders need to listen to the voices of working people like Nancy, Javier and Victor and take the action needed to end this cost-of-living crisis caused by corporate greed."
---
Full testimonies
Nancy Seutin, cleaning worker from Belgium
"I'm Nancy, I'm 38 years old, I have an eight-year-old son. I've worked in services for 11 years now and have been a trade union member for 10 years.
"My everyday life, in addition to those of 150,000 colleagues in Belgium, is the following: cleaning for three or four hours in a home and then going somewhere else to another home without having lunch often and you have to adapt to the cleaning materials you're given and that goes on every day of the week, when health permits.
"It's a difficult, useful, crucial job. We were vital during Covid for elderly people who can't care for themselves or their homes on a daily basis. For all of this work we get about 1000 Euros a month. 1000 Euros is hardly anything.
"You have to choose the bills you have to pay. Obviously, accommodation has to come first, or you would be chucked on the streets. But then you have heating and whether to put petrol in the car to go to work. Many colleagues have said they are choosing not to heat their homes this winter.
"With regard to food, again things are very difficult. Basic food stuffs are practically unaffordable, so you have to choose. It might be a little luxury item but that's increasingly rare so we just have to manage with what we can. We can't pay everything.
"Companies that invoice their clients have huge profits and don't care at all about our welfare and that's something we need to speak out about. It's important that we act because we just can't live on a thousand euros a month."
Javier Pizzaro, agricultural worker from Spain
"I'm from the agricultural sector. I've worked for my company for 7 years and have been working in total for 30 years. The minimum wage right now in Spain 1,150 euros, that's what I earn.  A normal family is on the verge of poverty with that income.
"Last month my expenses were as follows: Electricity, €130 a month, €350 in mortgage, water €40 a month, petrol to go to work is €140 a month, other expenses like apartment management fees and phone €150 a month without mentioning indirect taxes which I also have to pay obviously.
"Do you think that I have money to live and dress myself after having paid that out of my salary. Even harder, do you think I can save for a rainy day? I can tell you that it's impossible now."
Victor Tila, police officer from Romania
"I've been doing this job for 20 years now. In 2002 when I started the wage was not very good but it was OK. in the following years the government started not to consider the police a priority and wages started to get low along with inflation getting higher.
"Wages were cut by 25% in crisis of 2009. That was a very difficult period for policemen and Romanian workers. Nowadays policemen earn around 700 Euros and in our opinion this wage is a little bit low compared to the risks.
"Winter is coming and the prices in Romania for gas and electricity got higher. We expect that the cost of utilities to get around half of our wages, which is very difficult."
Notes
Videos of the testimonies can be found here with translation English, French, German and Spanish
Photos of the ETUC protest and lobby can be found here and here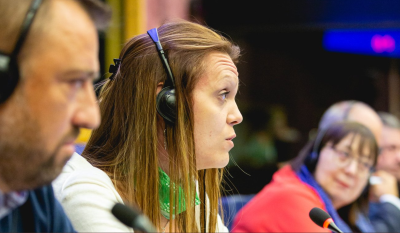 13.10.2022