On the 25th anniversary of the European Workers Councils Directive, the European Trade Union Confederation (ETUC) is calling on the new European Commission and Parliament to strengthen workers' democracy across the European Union.
A statement calling for new EU initiatives for more
-           and stronger European Works Councils
-           and strengthened rights for workers to be informed and consulted about major change within their company/workplace
-           for workers' representation at board levels
-           diversity and gender balance on company boards
will be launched at a major event in Brussels today, and is already supported by the ETUC and European Trade Union Federations, as well as by MEPs, including S&D Group President Iraxte Garcia-Perez, Employment and Social Affairs coordinators from the EPP, Greens/EFA and GUE/NGL Groups - Dennis Radtke, Kira Peter-Hansen, Nikolaj Villumsen – RE deputy coordinator Sylvie Brunet, and Oliver Röpke,  EESC Workers' Group President.
Well over 200 representatives from 100 European Works Councils in 18 European countries will take part in the conference and sign the statement today and tomorrow.
There are over 1,100 European Works Councils with some 20,000 employee representatives, and at least 17,000 employee representatives on company boards (mainly in Germany, Austria, Sweden, Denmark and Norway).   
ETUC Confederal Secretary Isabelle Schömann said "Workers' participation is a right, and is good for workers, companies, public services and society. It is helpful for managing the changes that digitalisation and climate action will bring."
"If Commission President Designate Ursula von der Leyen really wants to strengthen democracy and democratic participation as she says then her Commission must take action for more democracy at work. We look forward to working with her, with Vice President Dombrovskis and Commissioner Schmidt on giving workers a voice in the workplace and in the organisation they work for."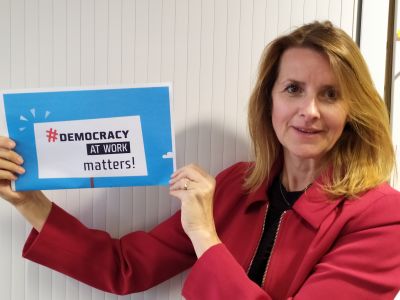 11.09.2019