European governments have today voted to make workplace safety a fundamental right worldwide despite a dozen not having ratified the international convention on health and safety at work – almost 40 years after it was launched.
At a plenary session of the UN's International Labour Organisation in Geneva, countries voted to elevate occupational health and safety to one of just five ILO fundamental principles, which currently include the freedom of association and the abolition of child labour.
European governments, along with those in Africa, played a key role in securing this important victory for workers' rights. But a dozen European countries have themselves still not ratified ILO convention 155 on occupational health and safety which came into force in…August 1983.
And they include some of the countries with the highest workplace injury rates in the world, according to the ILO. Their data puts France, Austria, Switzerland and Germany among the 20 countries with the highest number of injuries. 
| | | |
| --- | --- | --- |
| | Annual non-fatal workplace injuries (latest) | ILO ranking for workplace injuries (per 100,000 workers) |
| France | 778,820 | 6th worst of 86 ILO countries |
| Austria | 60,909 | 11 |
| Switzerland | 95,254 | 12 |
| Germany | 867,533 | 14 |
| Italy | 289,283 | 22 |
| Estonia | N/A | 35 |
| UK | 220,985 | 36 |
| Poland | 81,302 | 40 |
| Lithuania | 4,666 | 47 |
| Greece | 5,127 | 67 |
| Romania | 3,918 | 78 |
| Malta | 1,623 | 86 |
ILO data also shows Malta, Romania, the UK and Estonia are among the countries who have made the biggest cuts to the number of labour inspections and labour inspectors over the last decade.
Following today's vote, the ETUC is calling on those 12 governments to finally ratify ILO convention 155 and put its principles into action.
It comes after the ETUC last month launched its Zero Death manifesto – signed by government ministers and MEPs – which calls for additional legislation and an increase in workplace health and safety training, inspections and penalties to end fatalities by 2030.
ETUC Deputy General Secretary Claes-Mikael Stahl said:
"Nobody should go to work worried about whether they will make it home to their family in the evening, but sadly this is the grim reality for millions of people across the world.
"Today's vote represents real progress towards ending the scandal of workplace injuries, showing that governments finally understand health and safety is not an optional extra but a right.
"We thank European governments for supporting this important change for workers across the world. But this was the easy part. Now they all need to walk the walk on health and safety.
"The 12 European countries which have failed to ratify the ILO convention and health and safety over the last 40 years must finally do so immediately. 
"It would be the worst kind of hypocrisy and European exceptionalism to vote to make workplace safety a right in other parts of the world without applying the same standards in your own country.  
Notes
Background on ILO convention 155: https://www.ilo.org/global/about-the-ilo/newsroom/news/WCMS_839982/lang--en/index.htm 
https://www.ituc-csi.org/ILO-occupational-health-and-safety?msdynttrid=bbKykNpbHm7cniiNtXq3wTOM9sJqX1B88WM1SVp1g9w 
ILO statistics on occupational injuries: https://www.ilo.org/shinyapps/bulkexplorer51/?lang=en&segment=indicator&id=INJ_NFTL_ECO_NB_A
ILO rankings on occupational injuries: https://ilostat.ilo.org/topics/safety-and-health-at-work/ 
Photo:  ILO/I. Fajar (2018)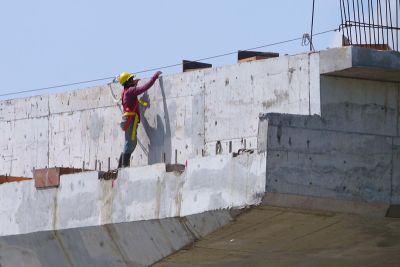 10.06.2022