Ursula von der Leyen has taken an important step towards securing trade union support for her plans on minimum wages today with a pledge in the Swedish media to protect and promote collective bargaining.
The European Commission president said that the EU will "never" impose a statutory minimum wage on the six member states which set wages exclusively through collective bargaining – Austria, Cyprus, Denmark, Finland, Italy and Sweden.
The intervention comes at a crucial time, ahead of her State of the Union speech on Wednesday when she is expected to outline her plans for minimum wages and collective bargaining. On the same day, the German EU presidency will hold a conference at which the German trade union DGB and the ETUC will lead a discussion on collective bargaining and minimum wages.   
In an article for Swedish newspaper Dagens Nhyeter, von der Leyen wrote: "The Commission will never request Sweden to introduce a statutory minimum wage.
"Instead, we want to strengthen collective agreements in countries that have a lot left to do, and we want to do it without disturbing well-functioning systems, such as that in Sweden. The Commission has full respect for national traditions regarding both collective agreements and the independence of the social partners. We will make sure that this is waterproof."
The European Trade Union Confederation welcomes this important clarification.
ETUC members have voted overwhelmingly to support EU action to tackle low pay, but we have made clear that our support is conditional on a guarantee to protect and promote collective bargaining as the best way to achieve fair wages.
New ETUC research shows how wages are tied closely to whether workers are covered by collective bargaining, with 9 of 10 of the EU countries with the lowest wages also having the lowest levels of collective bargaining coverage.
Responding to the article, ETUC Deputy General Secretary Esther Lynch said:
"Ursula von der Leyen's promise to protect and promote the right to collective bargaining provides much needed clarity about her plans. That now needs to be turned into a legally watertight guarantee to secure the support of all member states and their trade unions. 
"A directive is needed to end the scandal of employers refusing to collectively bargain with workers and unions and to stop minimum wages leaving workers at risk of poverty in 16 member states.
"On Wednesday in her State of the Union speech we need to hear more from the Commission president about her plans to protect and promote the right to collective bargaining."
Notes
In its response to the Commission's consultation on "fair minimum wages", the ETUC called for:
- Member States cannot set their statutory minimum wages below a threshold of decency: 60% of the median AND 50% of the average wage (based on national full-time gross wages)
- The right to collective bargaining and union access to workplaces is guaranteed in every member state
- Public money to be spent only with employers which recognise trade unions and negotiate wages through collective bargaining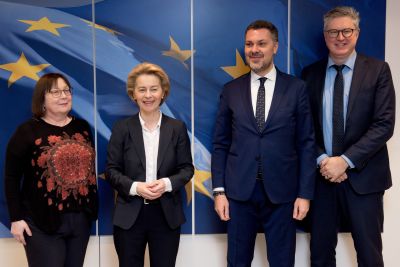 14.09.2020