European trade unions are throwing their weight behind tomorrow's protests in Tunisia over the authoritarian crackdown on workers' rights and democracy by President Kais Saied.
ETUC general secretary Esther Lynch has travelled to Sfax for a protest organised by the Tunisian General Labour Union (UGTT) in response to a campaign of arrests, sackings and harassment of trade unionists in the country.
Lynch is part of a delegation of international trade union leaders in Tunisia to show the President Saied that the world is watching his actions and that UGTT has the full support of the global union movement.
The nationwide day of protest comes amid a sustained campaign of attacks on the UGTT, which have included:
- The arrest of UGTT official Anis Al-Kaabi on January 31 for a legitimate and legal strike
- The sacking of trade union officials
- Malicious lawsuits against trade unionists
- Using law enforcement to monitor and restrict trade union activity
- Promoting yellow trade unions
 
These tactics are part of a campaign by President Saied to break the union's resistance to his mishandling of the economic crisis, which is misery for millions of working people.
The attacks have become more severe since the UGTT and civil society leaders launched a National Rescue Initiative in December to address the country's economic, social and constitutional crisis.
Tunisia now forms part of a group of countries where there is "no guarantee of rights", according to the ITUC's Global Rights Index. It was the only country in the world to move into this group last year. 
Speaking from Tunisia, ETUC General Secretary Esther Lynch said:
"The UGTT is the last rampart to defend Tunisian democracy. President Saied's authoritarian crackdown against trade unionist will not be allowed to succeed.
"The global labour movement won't stand for it. I'm here in Tunisia to say to President Saied: the world sees what you're doing – stop your attacks on trade unions now. 
"We also warn the Government against any plans to remove subsidies on basic items like food and energy.
"With the lives of ordinary people becoming harder by the day, Tunisians need strong and independent trade unions now more than ever.
"The UGTT has an important role to play helping Tunisians come through this crisis and rebuilding a fairer and more democratic country as it has always done since its foundation – they will have the full support of trade unions across Europe and the World in doing so."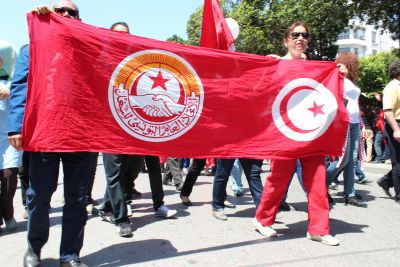 17.02.2023