Today, the opening day of ETUC Congress – the largest European gathering of national trade union leaders for four years – ETUC General Secretary Luca Visentini will thank outgoing European Commission President Jean-Claude Juncker for rescuing 'social Europe', and discuss with Portuguese Prime Minister Antonio Costa the need for a renewed social contract for Europe.
In his opening remarks Luca Visentini will tell guest speaker Jean-Claude Juncker that his term as President has "shown that Europe can be a force for social progress" – and "rescued social Europe when it almost died following the crisis, during the wasted years of austerity, and at the hands of the neo-liberal Barroso Commission".
He added that this was thanks to the Juncker Commission's initiative, but it would have been impossible without the commitment and support of the trade union movement.
Visentini will say that new Directives on Work Life Balance and Transparent and Predictable Working Conditions, and the revision of the Posted Workers Directive should be "just the start of the full implementation of the European Pillar of Social Rights" and that a lot still remains to be done, particularly for quality job creation, a fairer wage share and just transitions. Visentini will say that "all democratic parties must increase their efforts to build a fairer and more socially just Europe" in the next mandate of the European Parliament and Commission.
Visentini will welcome Antonio Costa, Prime Minister of Portugal, and architect of a progressive alternative to austerity based on growth, jobs and equality, to ETUC Congress for a discussion on a renewed Social Contract for Europe – that has been pledged among others by the EPP and S&D parties.      
In a document to be debated at its Congress, ETUC proposes a renewed social contract for Europe that would include full implementation of the Social Pillar alongside other measures such as strong collective bargaining in all EU member states, increased public and private investment, renewed efforts to tackle the gender and east-west pay gap, more urgent climate action, and new initiatives for gender equality and against discrimination.         
ETUC Congress is taking place in Vienna from 21-24 May with over 600 voting delegates and is the first ETUC Congress made up 50/50 of women and men delegates.
For more information https://www.etuc.org/en/european-trade-union-confederation-14th-congress-etuc19
For live streaming go to https://www.etuc.org/en or https://www.conference-streaming.at/etuc2019/
Follow on twitter #ETUC2019 or @etuc_ces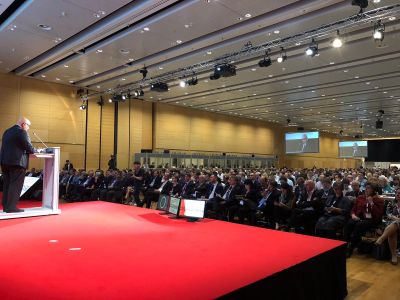 17.05.2019