Commenting on President Juncker's State of the Union speech today, Luca Visentini, General Secretary of the European Trade Union Confederation said
"The speech painted a rosy picture of economic recovery and was too light on proposals for social justice.
"His references to climate action and digitalisation for example expressed no concern about potential job losses, or the need to manage the social and employment impacts. That's alarming and dangerous.
"There was little reference to the European Pillar of Social Rights, which we regard as the most important initiative that has to be delivered by the end of his time as President.
"Nonetheless I welcome his call for it to be agreed at the latest by the Gothenburg Summit in November. What he did not outline is how he would follow up that decision, and we regard that as crucial.
"I also welcome his determination to ensure a decision on the revision of the Posted Workers Directive, although that alone will not achieve equal pay. A stronger approach is needed
"The proposal for a European Labour Authority is interesting, and we would expect trade unions to be fully involved in working up the proposal, and in being inspectors.
"The ETUC welcomes the announcement of an Industrial Policy Strategy, but would want to know much more about what it would actually consist of.
"We had hoped for the EU's economic policy making semester to be transformed into an economic and social semester, and would be happy if the European Social Standards Union referred to by Mr Juncker gives social rights the same importance as economic rights, influences EU economic policy recommendations and tackles inequalities including the huge gap between east and west of the EU.
"We support the idea of a European Minister of Economy and Finance, and agree the Minister should be a European Commissioner and chair the Eurogroup. The proposal for a European Monetary Fund is positive, as long as it is an EU Fund and not an inter-governmental one, and seems to be in line with our call for a European Treasury. 
"We support more qualified majority voting and urge President Juncker to follow up with national leaders. 
"On migration and refugees, we appreciate  the efforts President Juncker is making in difficult circumstances, although we disagree that paying Turkey to keep refuges out of Europe is acceptable, and instead believe that the response of member states  is – with some notable exceptions - shameful."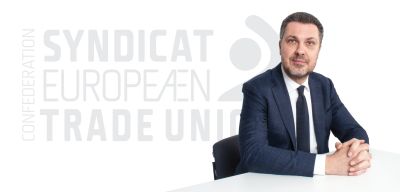 13.09.2017