The European Trade Union Confederation (ETUC) will participate in the global climate action week to put pressure on world leaders to deliver urgent solutions to the worsening climate crisis, and is calling on national trade unions to take their own actions across Europe.
Demonstrations will take place around the world between September 20 and 27 to coincide with the United Nation's climate summit in New York, where heads of governments must take concrete action to deliver on the promises of the Paris Agreement.
That includes the commitment to a "just transition" – moving to a carbon neutral economy in a way that's fair to people working in industries that will be required to change.  
ETUC leaders will actively participate in the mobilisation taking place in Brussels on September 20 in order to press for this just transition to a green future. It follows on from the ETUC's support for the massive Youth for Climate protest staged in March.
The ETUC has also today written to its 90 national affiliates calling on them to take further action to stop the climate crisis in their own countries, with many trade unions across the continent already engaged in the campaign.
ETUC General Secretary Luca Visentini, who will join the protest in Brussels, said:
"There's no jobs on a dead planet, which is why trade unions will mobilise for climate action and a just transition alongside youth activists like Greta Thunberg to ensure that world leaders deliver on the promises they made in the Paris Climate Agreement.
"Climate action and a just transition must be one of the top priorities of the EU's new leadership and we want to see progress towards achieving zero net emissions by 2050 through the Green New Deal promised by the Ursula von der Leyen.
"The move to a carbon neutral economy must be done in a way that's fair to workers, which is why the EU also needs a just transition strategy, including dedicated funds to pay for retraining and social protection as well as an investment plan to transform the EU economy while providing quality jobs." 
ETUC Confederal Secretary Ludovic Voet, responsible for climate change, said:
"Working people and their families will be hit the hardest by the consequences of climate change, which is why we made the issue one of our top priorities at our recent congress. 
"Action has been made even more urgent by events such as unprecedented forest fires in the Amazon and Siberia, Hurricane Dorian, glaciers melting in Greenland, deadly monsoons in India and the heatwaves across Europe.
"Trade unions need to be at the forefront of the climate movement to ensure that we achieve a green economy and society through a socially-fair transition that leaves no worker or part of Europe behind."
Notes:
The Youth for Climate demonstration in Brussels on Friday, September 20 will begin at 1.30pm at Gare du Nord station.
Ludovic Voet is available for interviews before or at the demonstration. Broadcasters should contact media officer Luke James ([email protected]) to organise an interview.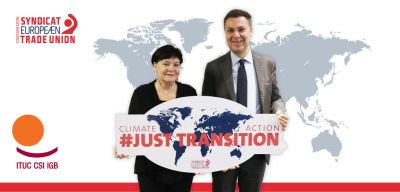 05.09.2019