The European Trade Union Confederation (ETUC) calls on the European Commission to withdraw its recommendation to restrict the right to strike of air traffic control staff.
"The right to strike is a fundamental right" said Esther Lynch, ETUC Confederal Secretary, "and the European Commission has no right to undermine it.
"The European Commission is acting contrary to the EU Treaty, the EU Charter of Fundamental Rights, and the European Pillar Social Rights.
"The Commissions Guidance is really badly thought through and seems to totally ignore the role that trade unions and collective bargaining plays in protecting safe operating systems.
"If the European Commission wants to reduce flight delays it should focus on the main causes of delays, and not blame working people who are exercising their right to persuade their employer to come to the negotiating table."
The ETUC supports its member the European Transport Workers Federation in defending the right to strike – and supports the petition opposing the European Commission's stance http://www.atcorights.org/petition/
Esther Lynch was speaking at a meeting today in Brussels of 70 trade union representatives from across Europe affiliated to the Air Traffic Controllers European Unions Coordination and the European Transport Workers' Federation.
The recommendation on restricting the Right to Strike was made in a 2017 Communication 'Aviation: Open and Connected Europe' and has not been withdrawn despite repeated protests by trade unions.
For more info see
https://www.etuc.org/press/european-commission-proposal-restrict-right-strike-grave-error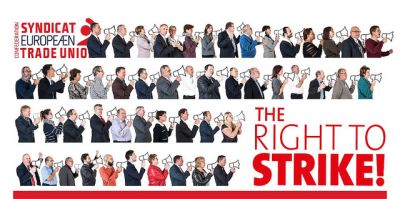 22.02.2018