On Friday, the European Commission is expected to announce 'binding occupational exposure limits' for 13 cancer-causing substances.
"This is important news for the health of workers across Europe," said Esther Lynch, ETUC Confederal Secretary, "and a hard-won victory for workers and their trade unions.
"Although some of the exposure limits are inadequate, and some substances are not included, this is a significant step forward. After 12 years of inaction the European Commission has finally listened to demands to protect workers better from work-related cancer.
"I am expecting the Commission to put forward exposure limits for at least 15 more substances by the end of the year."     
Exposure limits do not replace employers' obligation to eliminate and substitute toxic substances in the workplace.
Work-related cancer: the facts
100,000 people die in the EU every year from preventable work-related cancers.  
The European Trade Union Confederation (ETUC) has repeatedly called for limits to be extended to more cancer-causing substances and has made this the core of its appeals on International Workers' Memorial Day in 2016 and 2015.
The Commission's proposal includes a number of substances for which the ETUC has already demanded exposure limits - see https://www.etuc.org/press/end-workplace-cancer – including crystalline silica and ceramic fibres.
The Commission's proposal for binding occupational exposure limits for 13 substances brings to 16 the total number of substances covered by exposure limits under EU law, and follows a commitment by the Dutch Presidency to "press for work-related cancer to be combatted by expanding workers' protection against a wider range of carcinogens" and to that end, "amending the Carcinogens Directive". 
The EU Directive on Carcinogens and Mutagens has been under review since 2004 with no results until now. In October 2013, the Commission stopped developing exposure limits for cancer-causing chemicals because of a 'REFIT' review.
For more on ETUC demands regarding occupational cancer see https://www.etuc.org/press/28-april-%E2%80%93-international-workers-memorial-day-new-health-and-safety-laws-now  and https://www.etuc.org/press/150000-have-died-while-eu-evaluates-%E2%80%98better-regulation%E2%80%99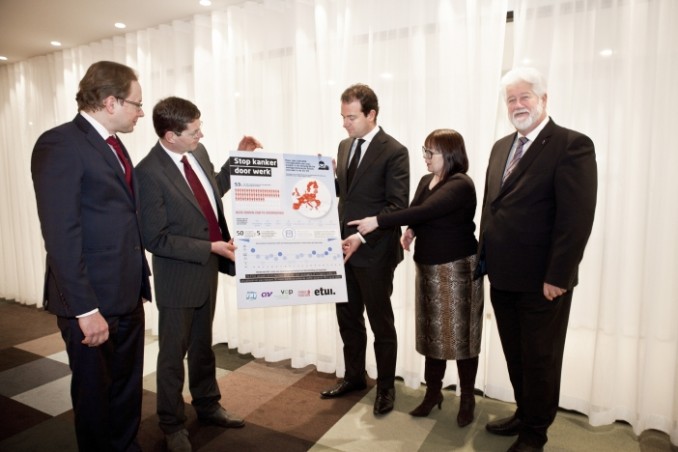 12.05.2016