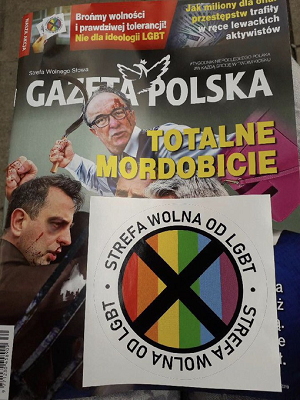 European journalists' trade unions have condemned the distribution of 'LGBT-free zone' stickers by the weekly paper Gazeta Polska.
The ETUC-affiliated European Federation of Journalists says the stickers – featuring a black cross over the LGBT rainbow symbol – promote discrimination and violate the principles all journalists should adhere to.
"The publication of anti-LGBT stickers by Gazeta Polska goes against journalism ethics," said Tomasz Miłkowski, International Secretary of the Association of Journalists of the Republic of Poland (SDRP). "Such conduct brings our profession into disrepute. It violates national law in a flagrant manner by promoting discrimination based on sexual orientation."
The publication was also condemned by the ETUC and its Polish affiliate OPZZ.