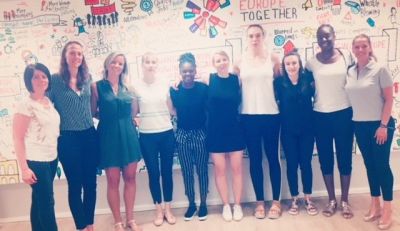 A meeting of the World Players Association and UNI Europa Sport in Brussels in July gave its backing to a strong European Basketball Alliance to help overcome the obstacles facing many female players.
Among the top athletes taking part were Melissa Diawak, Maud Medenou and Pauline Lithard from France, Kathrin Ress and Martina Fassina from Italy, Olympic medallist Lucila Pascua Suárez from Spain and Gülşah Akkaya from Turkey.
The players spoke of the discrimination women face in the sports industry. Irregular contracts, lack of retirement rights and paid holidays are commonplace, and many female basketball players have to end their careers to have children as there are no maternity provisions. "We are working people, we don't just play for fun, it's our job," protested Kathrin Ress. "We need the rights and respect that everyone else has."
UNI Europa Sport and World Players are taking part in an 18-month EU-funded project on Strengthening social dialogue in the professional basketball sector. "Collective bargaining agreements could give female athletes the professional and social security they demand and deserve," said UNI Europa Sport Director Amel Djemail.
The World Players Association is an autonomous sector of UNI Global, bringing together 85,000 professional sport players in over 60 countries, "To champion the dignity of the player and the humanity of sport."