MEPs must vote for new rights for working parents and carers says the European Trade Union Confederation (ETUC).
Today, April 4, the European Parliament will vote on the final deal for the Directive on Work/Life Balance – already  agreed in 'trilogue' negotiations and subsequently by Council.
The Directive will bring new rights in many European countries including
10 days paternity leave around the birth of a child  and paid at sick-leave level
5 days carers leave – although unfortunately without any obligation for the leave to be paid
The right for parents and carers to request flexible working arrangements to which employers must respond and provide a justification (in the case of refusal)
The Directive also makes non-transferable 2 months of the existing 4 months parental leave (meaning that instead of one parent – usually the mother – being able to take 8 months, the father must take at least 2 months or the parents lose them).
"This European Directive is good news for working parents and carers" said Montserrat Mir, Confederal Sec of ETUC. "It introduces a number of new European rights which will make life a bit easier for working people in many EU member states. It shows the face of  the Europe that protects and delivers concrete tangible benefits
"This is real progress even if it could have gone further. The ETUC wanted stronger rights in some cases – such as a minimum European  threshold for payment and paid carers leave – but the eventual compromise package is still an important improvement.
"The only thing that remains to do is for MEPs to agree it and for member states to put it into national law. Governments have 3 years to do it, we urge them to do it sooner rather than later."
Employers and trade unions – the social partners - will have an important role to play  in transposition and implementation.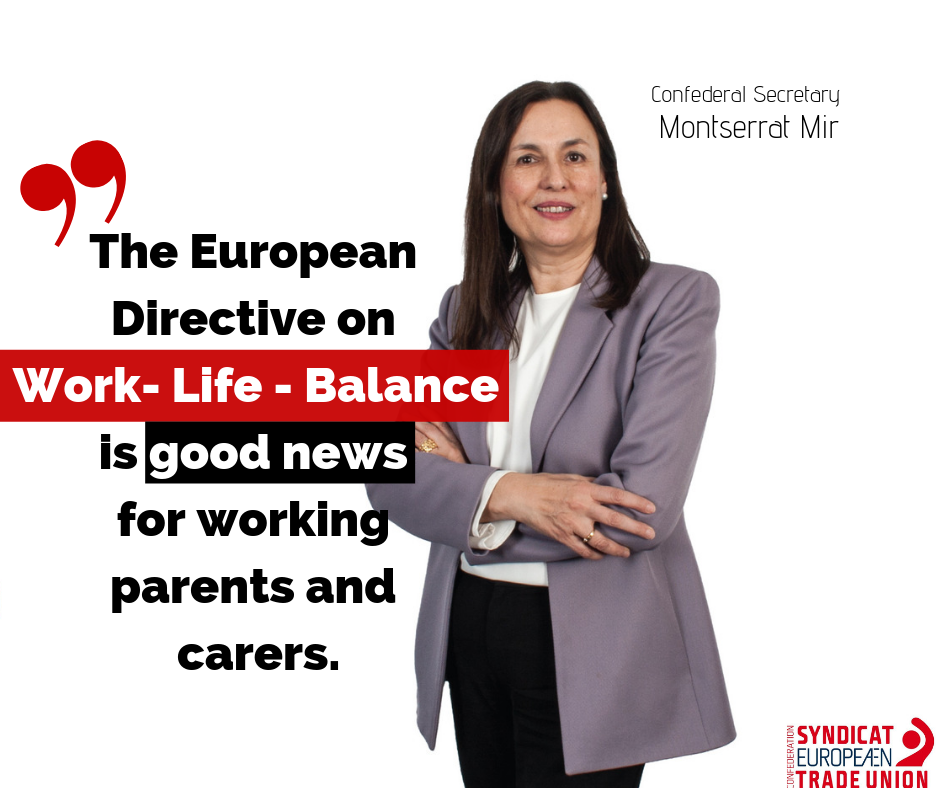 04.04.2019