As the EU's flagship whistleblowing Directive reaches the final stage of negotiations between national Governments and the European Parliament, trade unions warn that the EU risks ending up with a Directive that protects companies more than it protects whistleblowers!
"Some member states are insisting that whistleblowers must first go through an internal reporting procedure" said Esther Lynch, Confederal Secretary of the European Trade Union Confederation. "This is not in the interests of those exposing wrong-doing or the public. It would give companies every opportunity to cover up their wrong-doing and to shut up the whistleblower."
"It is one thing for the EU to encourage companies to have an internal procedure to help workers and others to be able to blow the whistle, but it is a very bad idea for the EU to force potential whistleblowers to use it or risk to lose their job.
"The Directive would also leave whistleblowers vulnerable to company pressure to drop the complaint because it does not yet give them the right to be represented by their trade union in what is a very complicated procedure."  
The 3-step procedure for blowing the whistle (internal procedure, external authority and then public disclosure) was proposed in the European Commission's draft Directive and is supported by EU member state governments including Germany and France. The European Parliament sensibly proposes to allow whistleblowers to make their own judgement as to when to go to the regulator or to go public.
The next 'trilogue' negotiation meeting is scheduled for March 4.
"Unless the member states agree to improve it, the EU risks a Directive that does more to protect companies from people exposing wrong-doing than it does to protect whistleblowers" said Esther Lynch.
"This would be an absolute travesty following the Lux Leaks, Paradise Papers and Cambridge Analytica scandals."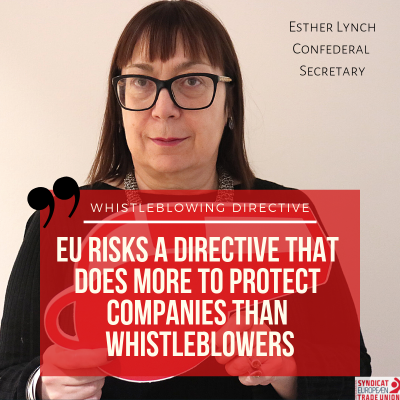 01.03.2019