The European trade union movement, in a letter today to Presidents von der Leyen, Michel and Sassoli, urges the European Union to EU relations with Belarus including "the reintroduction of commensurate sanctions for electoral fraud and violence."
Writing to the Presidents of the European Commission, Council and Parliament Luca Visentini, General Secretary of the European Trade Union Confederation (ETUC) and the Pan-European Regional Council (PERC) welcomes the extraordinary summit on 19 August and calls on the European Union "for a strong and unequivocal reaction and for a reassessment of the relations with Belarus".
The letter states that despite the release of political prisoners  "the regime was not, and is not, open to any real change.  It has continued suppressing democratic institutions, independent civil society and trade union movement and has violated fundamental rights and freedoms of its citizens. The recent electoral campaign and the following new wave of repressions have clearly shown this."   
"We have no illusions about the nature of the Belarusian regime - we are in contact with our colleagues of the Belarusian Congress of Democratic Trade Unions and support their longstanding fight for the respect of workers and trade union rights and freedom in the country."
It points out that an "Increasing number of labour strikes … taking place in major state companies show the growing political activity of the workers."
The letter also calls for
strengthening support to Belarusian civil society, including independent unions, and to
a stop to EU financial support to the government and state-controlled projects
the release of everyone placed in isolation wards or prisons from 9th of August onwards for political reasons.
To read the full letter see https://www.etuc.org/en/document/etuc-calls-eu-sanctions-against-belarus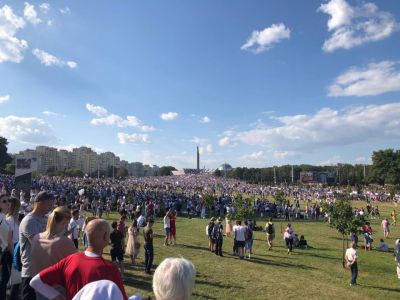 17.08.2020