Equal pay is needed now more than ever as new research shows women are hardest hit by energy price rises, the ETUC says on Equal Pay Day 2022.
Single mothers and single women are more likely to have problems paying their utility bills than any other group, according to a new Eurofound survey.
It found almost half of single mothers (44%) and 31% of single women anticipate difficulties affording energy costs over the next three months. That compares to 26% of single men.
The figures reveal the real impact on women of Europe's 13% gender pay gap and highlight the need for urgent measures to be taken at a national and EU level to shield them from the crisis.
The cost-of-living crisis is making it harder for women to flee abuse and domestic violence, because they are financially tied to an abusive partner and can't live on a single-income.
The ETUC is calling for a six point plan that includes:
- Pay rises to meet the rising cost of living
- Energy price caps
- Emergency payments for those struggling most to pay their bills
-  A ban on energy disconnections
- Windfall taxes on the excess profits being made by energy giants
ETUC Deputy General Secretary Esther Lynch said:
"Just as women were overrepresented on the frontline of the Covid crisis, now women are being hit hardest by the cost of living crisis because of the gender pay gap. 
"Women are more likely to be in low paid work because of the undervaluing of work done predominantly by women and more likely to be in part-time work because they overwhelmingly carry the burden of caring responsibilities.
"Many women were already struggling to afford life's basics because of unequal pay and now the cost of living crisis has driven them into serious poverty. We're talking about almost half of single mothers who won't be able to afford to keep themselves or their children warm this winter.
"There will be a lot of warm words on Equal Pay day but what women need is for politicians to deliver warm homes through pay rises, emergency fuel payments and energy price caps."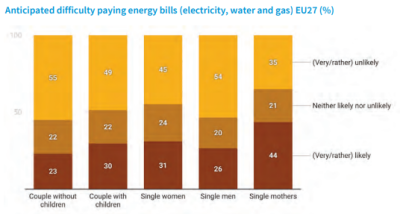 15.11.2022