The European Trade Union Confederation (ETUC) united with activists today to demand urgent and concrete actions to stop climate change ahead of the UN Climate Summit in New York.
As part of the global climate action week, an ETUC delegation took part in a major demonstration in Brussels organised by the Youth for Climate group.
ETUC Confederal Secretary Ludovic Voet told the demonstration:
"We are here as trade unionists because everything we have been fighting for since our movement was born – social justice, workers' rights, health and safety and decent wages for all – will be in danger if we don't stop the climate crisis.
"From the heatwaves this summer to the amazon fires, all the extreme weather conditions we are facing and will continue to face in the coming years will have big consequences for workers and their communities.
"So we are here to fight for climate action now and for a just transition because we need to move to a carbon free economy in a way that's fair to workers."
Earlier, two leaders of the Belgian climate movement, Anuna de Wever and Adelaide Charlier, spoke to trade union leaders from across Europe at the ETUC's executive committee in Brussels.
Speaking at the executive committee, Charlier set out how "poor people will be the first ones to face the consequences of climate change, while they are the ones who emit the least CO2."
De Wever added that it was important therefore for trade unions and climate activists to be united as the "social transition and the ecological transition are two sides of the same coin."
ETUC General Secretary Luca Visentini told the activists:
"The ETUC is absolutely committed to the fight to save the planet from climate change and we appreciate your support for a just transition to a green future.
"Working people are worried about climate change because they will be the first and worst affected, but they are also concerned that they could lose their jobs and livelihoods if things change. By working together, we can ensure that we can tackle climate change and protect jobs and living standards."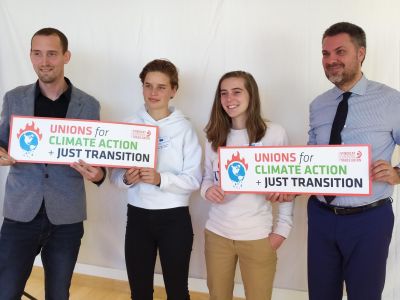 20.09.2019