Responding to the state of the union speech, ETUC General Secretary Luca Visentini said:
"Ursula von der Leyen's speech included all the right soundbites about the problems facing working people but was short on solutions.
"The President talked about the importance of balance in people's lives but didn't put forward a much-needed directive on the right to disconnect. She said the climate transition must be fair but said nothing about the Just Transition Fund being cut in half, nor about the lack of social or employment conditions for funding in the Fit for 55 package which is seriously short when it comes to addressing energy poverty. She talked about supporting young people without announcing rights for platform workers or a ban on unpaid internships.
"It was the political equivalent of the applause for key workers during the confinement, it was nice to hear but will quickly fade from memory. 
"The President did though promise a law against violence against women which is badly needed after an explosion in violence against women workers during the pandemic as well as a rise in cyber harassment including by new forms of intrusive surveillance software being used by companies to spy on people working from home.
"We also welcome Ursula von der Leyen's recognition that the austerity-based response to the financial crisis was a mistake and her commitment to reviewing the EU's economic policies. The Next Generation EU fund is a step in the right direction, but the social dimension of recovery fund is weak. While Joe Biden insists the US recovery creates "high-paying union jobs", there are no conditions in the recovery fund to ensure the same happens in Europe and trade unions have been cut out of many national recovery plans. 
"Europe is still far away from achieving the social market economy that Ursula von der Leyen talked about today. For millions of working people, life is harder now than it was a decade ago. Austerity created unemployment, dismantled collective bargaining needed for fair wages and damaged public services we all depended on during the Covid crisis. The pandemic has further exacerbated inequality.
"That's the real state of the union and working people need real solutions."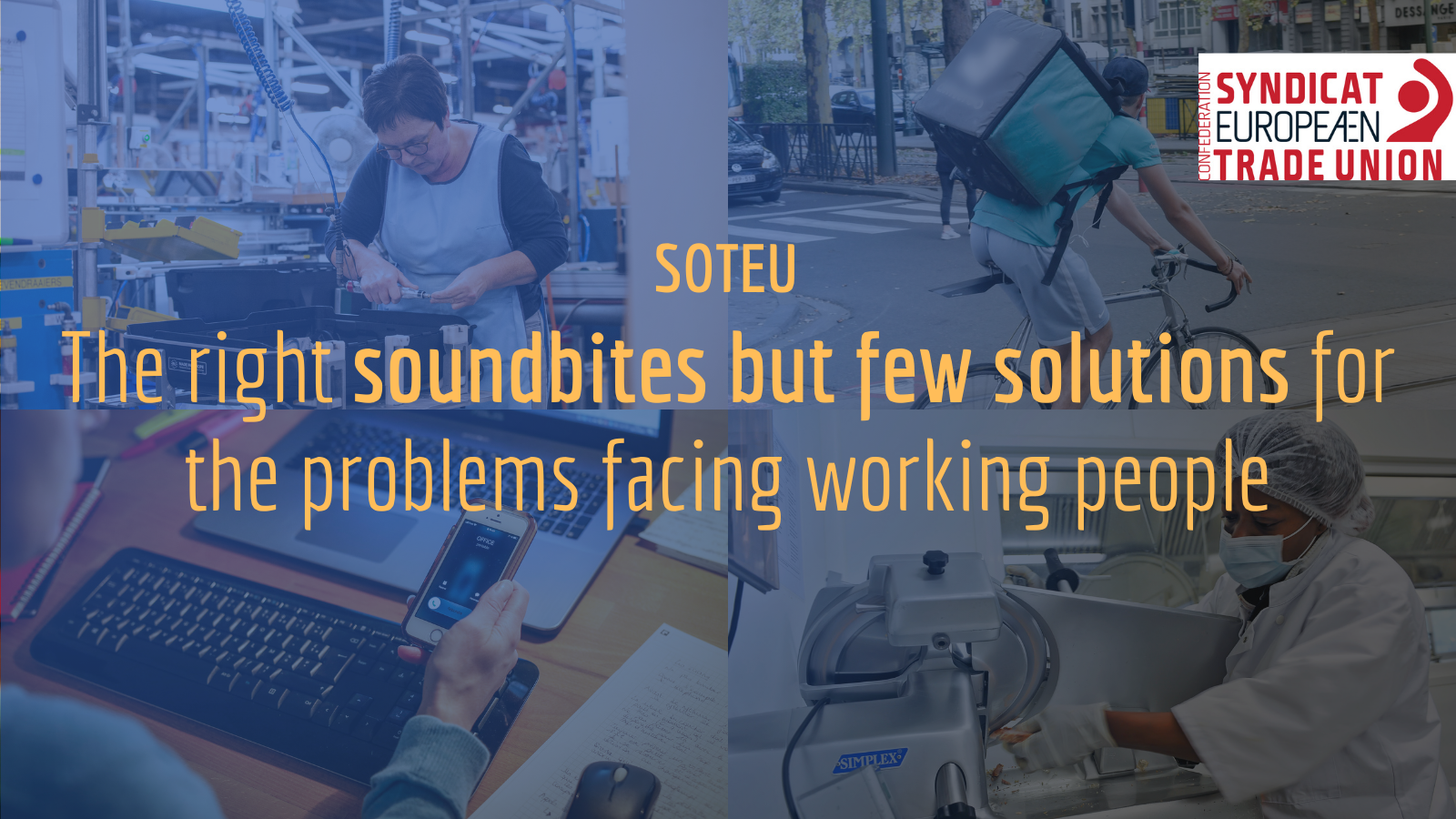 15.09.2021