Trade unions have called on Ursula von der Leyen to address Europe's growing 'social justice emergency' ahead of her State of the Union address.
In a letter to the European Commission President, the European Trade Union Confederation (ETUC) highlights how workers have seen their purchasing power collapse at the same time as corporate profits and dividends exploded.
Payouts to shareholders increased by 10 per cent in the second quarter of this year, according to figures published this month. That follows a 14 per cent increase in 2022.
By contrast, average wages grew by 4 per cent last year against a background of a 10 per cent rate of inflation driven primarily by the growth in corporate profits.
 

Growth in nominal compensation per employee 2022

 

Inflation 2022

 

Dividend growth 2022

EU

4.4

10.4

14

Belgium

6.4

10.2

11.7

Denmark

3.3

9.6

117.8

Germany

4.3

9.6

33.5

Spain

2.9

5.5

17.8

France

4.6

6.7

26.2

Netherlands

3.3

11.0

15.7

Austria

4.1

10.5

26.3
The ETUC calls on President von der Leyen to include the following commitments in her address:
 
Support for collective bargaining as the best way to restore balance between workers and boardrooms by ensuring only companies who set pay and conditions in negotiations with trade unions can receive public money – at least 1 billion Euro in EU funds was given to companies which have violated workers' rights over the last decade.
 
Increase investment and ensure that money is used in the public interest by putting social conditions on the use of EU funds like the Green Deal Industrial Plan, incentivising the creation of quality jobs not simply higher dividends – the EU has so far failed to match the social conditions in the United States' Inflation Reduction Act.
 
Reject a return to austerity by amending new economic governance rules that will come into force in January to ensure they allow investment in public services, the creation of quality jobs and a just transition to a green economy – the current rules would require members states to cut 45 billion next year alone.
Writing to President von der Leyen, ETUC General Secretary Esther Lynch said:
"The ETUC believes that it is time to forge a route to a rebalanced European economy that puts people and planet first. Attacks on trade unions must end. 
"The status quo is not working, change is needed. Workers are not getting a fair deal, they are not receiving their fair share, instead they are faced with a cost of living crisis and calls for wage restraint while greedflation is caused by CEOs' and corporate profits.
"This has created a social justice emergency in Europe.
"There is no time to lose, the European Union continues to suffer from social and economic wounds sustained a decade and a half ago.
"A strong response based on the European Social Model is required. We call for the State of the Union address to recognise the urgency to ensure investment in opportunities and quality jobs, improved working and living conditions, higher pay and high-quality public services, and support for collective bargaining to lay a fairer foundation for our economy and society.
"This is of paramount importance to defend and reinforce democracy in view of the European elections."
Notes
EU dividend figure and wage figures are from Eurostat.
National dividend figures are from the Janus Henderson Dividend Index.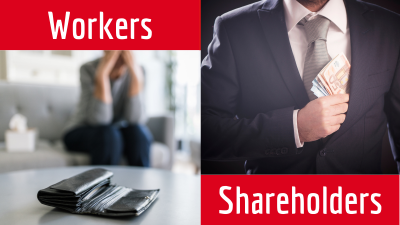 30.08.2023