The European Commission has finally published its proposal for a directive on pay transparency - 460 days after President von der Leyen took office with the promise to deliver "within the first 100 days of my mandate."
Responding to the proposal, ETUC Deputy General Secretary Esther Lynch said:
"A Directive on pay transparency is needed and could speed up progress towards pay equality.
"The Directive published today contains many good principles but is let down by inadequate tools to make it work in practice."
"The Directive will reduce secrecy on pay and shine a light on pay inequality. But it handcuffs women and unions who want to turn that into equal pay."
In particular the Directive
Limits the pay audits and action plans to organisations with over 250 employees
Allows employers to define which jobs can be compared when it comes to equal pay for work of equal value
Refers throughout the Directive to 'workers representatives' instead of trade unions which would open the door to fake unions set up by bosses, and even 'workers representatives' chosen by bosses.
"Transparency is good and pay audits and action plans are useful" said Esther Lynch "but do not guarantee change without empowering women workers and unions achieve change. Without the right tools to negotiate change, progress might still be slow. ETUC will press for the Directive to be improved by MEPs and Ministers."
At recent rates of progress, women in Europe would have to wait until the next century for equal pay.
Notes:
EU gender pay gap won't end until 2104 without action: https://www.etuc.org/en/pressrelease/eu-gender-pay-gap-wont-end-until-2104-without-action
ETUC model Pay Transparency Directive https://www.etuc.org/en/pressrelease/unions-publish-own-equal-pay-directive-protest-commission-delay       
Timeline of Commission delay's over its pay transparency directive: https://www.etuc.org/en/pressrelease/commission-goes-year-without-delivering-100-days-pay-transparency-promise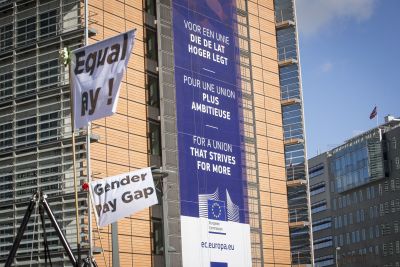 04.03.2021