Struggling families are facing another inflation setback as children return to the classroom, with the cost of the most basic school supplies rising twice as fast as wages across Europe.
The price of essential items like pens, pencils, paper, folders, erasers, sharpeners or scissors increased by 13 per cent on average between January and May this year.
That's double the rate at which nominal compensation is rising this year (6 per cent) and follows an eight per cent increase last year – also double the rate at which wages grew last year. The previous highest increase in the cost of stationery was 1.7 per cent in 2019.
The price of educational textbooks, children's clothing and footwear, calculators are also rising more quickly than pay in many member states, piling further pressure on working people already struggling cost-of-living crisis.
EU member states with the biggest difference in increase in basic school costs and pay:
| | | |
| --- | --- | --- |
|   | Increase in cost of stationery between January to May 2023 | Increase in compensation 2023 |
| Netherlands | 22% | 6% |
| Sweden | 11% | 4% |
| Denmark | 15% | 5% |
| Croatia | 19% | 8% |
| Spain | 12% | 5% |
| Cyprus | 14% | 6% |
| Germany | 13% | 6% |
| Malta | 13% | 6% |
| Italy | 9% | 4% |
| Estonia | 23% | 11% |
| Lithuania | 18% | 10% |
| Portugal | 12% | 6% |
| France | 10% | 5% |
| Greece | 8% | 4% |
Testimonies from parents and teachers:
"The total costs associated with school have gone up by roughly 20%. Shoes, stationery supplies, backpack, getting a haircut. On average, we're talking about around 100 euros per child, and that's not including the cost of clothes. We'll also have to chip in on field trips, printing services and various other expenses. A neighbor of mine had to spend 80 euros for his fourth-grade daughter, whereas 50 euros used to be enough just last year."
Audrius Gelžinis, civil servant, Lithuania, Lithuanian Trade Union Confederation
"Parents and students are in great difficulty this fall. Inflation is reflected at home but also at school, at the school cafeteria for example, which for some children represents the only meal of the day. Teachers are also precarious: as a result, there are fewer and fewer candidates for the profession and the government uses job dating, to recruit teachers without status. This is the 'Uber' model applied to public school."
Marine, school teacher, France, Force Ouvriere
"I have a daughter who is starting the first year at high school . According to the calculations made, we will spend about €320 for textbooks alone, since they are not provided freely. In addition, she will need up to 3 dictionaries and, from what I've seen, a dictionary can cost as much as €120. To this we have to add everything we call kit, from the pencil case to the backpack and so on, so I think we'll spend between €600 and €700 just for it. It is a shame we cannot at least get the textbooks for free as it happens in other countries."
Monica Pascuzzi, high school teacher, Lamezia Terme, Italy, UIL
 
"Technically school is free of charge in Austria, but parents have to pay 1000 of Euros for afternoon day care (dependent where they live), private tutoring and school material. The cost for these things has risen a lot during the recent years. This is a big problem for lower income households, especially working class families and migrants. Under this circumstances there are no equal oopurtunities and success in education is very much dependent on family income." 
Senad Lacevic, Chairman of the Workers Council of the Viennese Adult Education Centres (Wiener Volkshochschulen)
 
"Essential goods related to education have increased consistently with inflation and the economic situation compared to the previous year, penalizing families and students. In addition to the price disparities that are normal between different shops, this is being felt in global terms. According to media reports, the price of an educational basket has increased by 14 per cent compared to last year and families are finding it even more difficult to meet all the all the costs associated with education. It should be emphasised that the have not kept pace with this exponential rise in prices, which in some items exceeds 50 per cent. Obviously, promotions or choice of lower quality material is an option, but this does not change the reality."
Alexandre Dias, teacher, Portugal, UGT-P
The ETUC's analysis of Eurostat data comes amid rising child poverty in Europe. The number of under-18s living at risk of poverty increased from 23 per cent to 25 per cent between 2019 and 2022.
The European Trade Union Confederation (ETUC) is calling for pay rises to meet the increase in the cost of living and windfall taxes on the excess corporate profits which are driving inflation.
European Central Bank data shows excess profits – not wages – are the main driver of inflation.
ETUC General Secretary Esther Lynch said:
"The start of the new school year is always financially challenging for families but this year is particularly tough because of inflation.  
"Cuts to school budgets have already placed an added burden on parents and now the increases in the cost of basic school supplies will mean that more children will lack the essentials of learning.
"Allowing child poverty to continue growing is a recipe for disaster for our society and our economy.
"People desperately need a pay rise to cope with the cost-of-living and all the data shows that inflation is being driven by excess profits and not wages.
"Along with targeted support to assist parents, governments also need to take action to support the right to collective bargaining so that workers get a fair share of profits they create."
Notes
Monthly rate of inflation for school costs: https://ec.europa.eu/eurostat/databrowser/view/PRC_HICP_MANR__custom_7246775/default/table?lang=en 
Nominal compensation per employee from AMECO database: https://dashboard.tech.ec.europa.eu/qs_digit_dashboard_mt/public/sense/app/667e9fba-eea7-4d17-abf0-ef20f6994336/sheet/f38b3b42-402c-44a8-9264-9d422233add2/state/analysis/
ETUC Open Letter to the President of the European Commission in view of the State of the Union address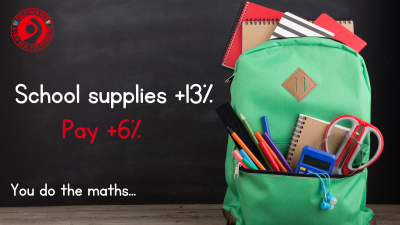 04.09.2023