New EU exposure limits will save lives, but a more ambitious strategy to eliminate occupational cancers is urgently needed. The ETUC today greeted the European Commission's proposal to introduce five* new binding occupational exposure limits (BOELs) for carcinogens as decades overdue.
ETUC Confederal Secretary Esther Lynch said: "Current exposure limits are based on very old evidence, sometimes dating back over 40 years, and given the high number of work related cancer deaths each year these limits are manifestly failing to save lives."
Trade unions long ago identified the need for these new exposure limits. Cancer is the leading cause of work related deaths in the EU and this means  that the Commission must take further action**. Commissioner Thyssen promised to propose 25 BOELs in 2016 and to reach a total of 50 BOELs in the Carcinogens Directive by 2020. With 13 BOELs added In May 2016 and five in the current proposal we are far from the objective of 25.
Important carcinogens are missing from the proposals, for example, diesel fumes (with more than 3 million workers exposed in the EU) and reprotoxins are still excluded from the scope of the Directive. The hairdressers' agreement concluded by the social partners is also worryingly absent from the proposals.
The EU's ability to effectively protect the health and safety of the workforce is a litmus test for its credibility in meeting the needs of working people. The Commission can and should adopt a more ambitious strategy to eliminate work-related cancers. The scale of the problem calls for bigger and faster steps. The EU needs to adopt an action plan for preventing occupational cancers and integrate it into the upcoming European Pillar of Social Rights.
As part of the review of EU Health & Safety legislation, the Commission will publish practical guidance for employers. Unions will study the guidance to small and medium-sized enterprises (SMEs) to make sure that it does not introduce any reduction in prevention duties for SMEs. Responding to the proposals today, Ms Lynch commented: "If a chemical process or practice is unsafe for workers in a large firm, it is unsafe in a small firm. What smaller businesses need is more help and advice on how to comply, not permission to not comply. The EU has to get back to promoting quality work and this means safe and healthy workplaces regardless of the size of the firm."
*While the Commission declared that its proposal is addressing 7 carcinogens, only 5 BOELs are proposed for inclusion in Annex III. Complex PAH mixtures are proposed for inclusion in Annex III with a skin notation only. Used engine oils are proposed for inclusion in Annex I to bring them in the scope of the directive.
**ETUC is calling for the adoption of BOELs for at least 50 priority carcinogens by 2020. The list of ETUC priority carcinogens can be found at https://www.etui.org/Publications2/Reports/Carcinogens-that-should-be-subject-to-binding-limits-on-workers-exposure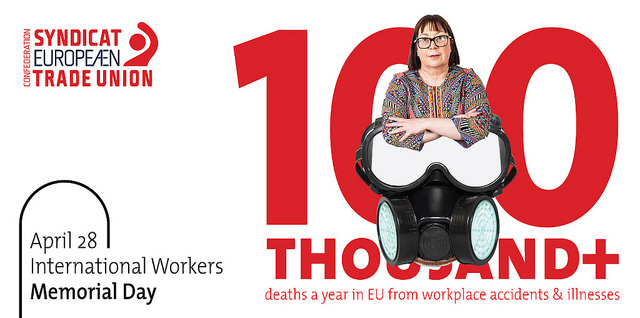 10.01.2017