The European Trade Union Confederation (ETUC) has written to MEPs urging them to vote in favour of the revision of Posting of Workers Directive.
The Plenary vote is due to take place on Tuesday 29 May on the trilogue deal between the Commission, Council and Parliament in March, and is a yes/no vote without the possibility of amendments. The text has already been approved by Council.     
The deal – while including significant compromises such as the exclusion of transport workers -  contains important guarantees for Europe's two million posted workers: above all the prospect of equal pay.  
The deal requires a simple majority of MEPs.
"The Parliament has the last word" said Luca Visentini, General Secretary of the ETUC.  "On Tuesday they will decide if posted workers should get the same as a local worker, or if they want discrimination against workers from other EU countries. Obviously the ETUC urges MEPs to vote against discrimination and against exploitation of foreign workers.
"The same pay for the same work in the same place is the very least that workers can expect in the EU's single market.
"The compromise deal has been negotiated at great length and in great detail by the MEPs appointed by the Parliament and approved by Governments that were sceptical about the revision of the Directive. Now MEPs have to vote and it had better be yes. Otherwise years of work by Governments and EU institutions and many other interested parties will have been wasted.
"All MEPs get the same salary – it is only right they apply the same principle to other working people."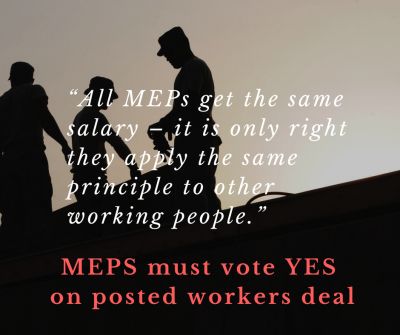 28.05.2018