Today MEPs on the European Parliament's Employment Committee voted for a more balanced Company Law Package, improving rights for workers.
"Instead of a proposal that gives new opportunities only to companies, we now have one that balances company mobility with workers' rights" said Peter Scherrer, Deputy General Secretary of the European Trade Union Confederation. "MEPs have made a big improvement to an unfair and overly-business-biased Company Law proposal from the European Commission. Now it is up to MEPs on the Legal Affairs Committee to support a more balanced package when they vote in December."
The Employment and Social Affairs Committee decided that companies that move their seat from one EU country to another must
give full information and consultation rights to their workers
give workers representation on the company board
have real economic activity in the country they are moving to - to avoid the multiplication of letterbox companies
"For the first time the ETUC proposal to strengthen democracy at work in all EU member states, including in boardrooms, was accepted as a way forward.
"Democracy at work is a vital ingredient of a more social Europe. We call on all MEPs to show they are serious about a better Europe."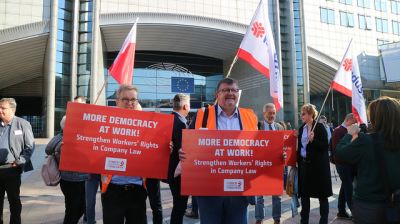 15.11.2018