Speech by ETUC General Secretary Esther Lynch at todaysà closing plenary of the Beyond Growth conference at the European Parliament in Brussels: 
Thank you for inviting the ETUC to be part of these discussions. We represent 50 million workers and their trade unions thoughout Europe. We welcome the opportunity to be part of this conference that has discussed transformative solutions.
Like many of you, trade unions have been raising concerns about the use of GDP and GNP as measures of the well-being of nations. The most obvious problem is that these measures simply are not designed to measure well-being, even at a basic level. They take no account of environmental impacts, health, inequality, and many other components that any rounded assessment of the progress of a country should include.
We agree that simply tweaking around the edges of existing models will not be sufficient to address the economic, societal and environmental transformations that are needed. New alternatives are now required. We have a key message: social dialogue is essential for a successful transition of the economy, society and the world of work. It's our first demand - nothing about us without us.
Thankfully there are a number of economists who are advancing ecologically sustainable and socially progressive alternatives. An eco-social paradigm as an alternative to the destructive, failed growth at any costs paradigm. Lets keep in mind that the richest 10% globally cause 50% of greenhouse gas emissions and the associated resource use. Wealth, the over consumption by the few founded on ecological destruction and persistent social and economic injustice, is no foundation for the future. We also stand in urgent need of a renewed sense of shared prosperity and a commitment to fairness and flourishing in a finite world.
That is why I want to focus on work, workers and their wages and on the need to reset the balance in favour of work and away from wealth.
Right now, living standards are falling across Europe, with just two responses from the leaders of business, banks and governments: More wage restraint, and more pressure on working people through higher interest rates and restricted state investment. More fiscal tightening and excessive deficit reduction at a time when we need investments for the green transition.
It is clear that the growth imperative has shaped the architecture of the modern economy, the European Semester is rooted in the growth paradigm. Take for example the constraints of Germany's debt brake, a constitutional provision that limits the structural budget deficit to 0.35% of GDP. When it was suspended in the face of economic challenges following the COVID-19 pandemic and the war in Ukraine, jobs and incomes could be protected. The success was achieved despite the fiscal rules, not because of them. That is why the ETUC is calling for amendments of the fiscal rules, to promote green investments and to recognise the importance of social spending to both wellbeing and competitiveness. We hear and read calls for deficit reduction, excessive deficit reduction, the wrong targets. This is not what is needed. Our message is clear - there can be no return to austerity.
One of the figures that most illustrates the need for redistribution between capital income and labour income is the growing divergence between the development of dividend payments and wage developments. In 2022 Europe's largest firms paid out record breaking dividends of 230 billion Euro and dividend payments increased by 14%, By contrast, workers saw their purchasing power collapse as nominal wages grew by 4.3 % against a background of 10.4% inflation. In a range of countriesm nominal wages stayed well below inflation whereas dividends were well above inflation, outstripping wage development several times.
In Denmark, dividends grew 36 times as much as wages.
In Germany, dividends grew 8 times as much as wages.
In France, dividends grew 6 times as much as wages.
Tackling prices needs to be part of the solution too. These record dividends were possible because companies increased their profit margins at expense of workers and consumers. Price-gouging to create excessive profits and dividends is driving the inflation that's hurting families across the continent right now. Yet only a tiny number of countries have implemented windfall taxes on excess corporate profits. This must change – and unions across Europe are determined that it will change.
We are calling for a rebalancing towards workers and work
Yes, we need pay increases. A beyond growth paradigm needs to ensure that jobs are quality jobs and that workers' wages are fair and secure. This means, at its heart, ensuring the right for workers to join a trade union and to collectively bargain. Ensuring that a minimum of 80% of workers are covered by a collective agreement now is key.
Recent research in America has demonstrated that high minimum wages are associated with substantial increases in employment. This underscores the positive importance of the Minimum Wage Directive and the adequacy of minimum wages for both the worker and the economy.
Re-evaluating the value we give to work and how much it is paid is often bundled up with discrimination, as it applies mostly to work predominately done by women. Low paid work, such as caring and cleaning. The Covid pandemic demonstrated that there is no such thing as low skilled caring or cleaning and there is no justification for low wages. Unpaid care work is the missing link and lifting the constraints on women's time implies reducing the burden borne by women.
We need investment for a successful green transition, but we are clear: there can be no blank cheques. All resources must come with requirements for social conditionalities like avoiding redundancies or any detriation in working conditions, as well as obligations to reskilling and the creation of high quality apprenticeships and a right to training.
How we move beyond growth will be important and, to go back to our first request, that social dialogue and collective bargaining should be central to that and not an add on.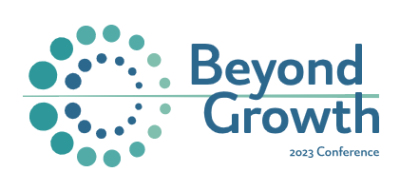 17.05.2023