During the four days that Chief Executive Officers from European companies attend the World Economic Forum in Davos next week, they will earn more than most people get in 18 months to two years.
According to figures on CEO pay-to-average-income from business news agency Bloomberg, in four days at Davos, CEOs
from UK will earn more than 2 years average income (GDP per capita)
from the Netherlands will earn more than 1 year and 10 months average income
from Switzerland will earn more than 1 year and 8 months average income
from Spain will earn more than 1 year and 7 months average income
and from Germany will earn 18 months average income.
"CEOs attending Davos need to agree something that will improve the world for the better if they want to justify earning more than a year's average annual income," said Luca Visentini, General Secretary of the European Trade Union Confederation (ETUC), who is attending Davos. "I will be urging CEOs to earn their salaries by supporting fair pay rises for workers in their companies and supply chains."
"The topic for this year's World Economic Forum is 'creating a shared future', and CEOs can start by agreeing to share incomes more fairly," said Esther Lynch, ETUC Confederal Secretary. "This means ensuring trade union rights and collective bargaining in their own companies and supply chains, and reversing the growing trend of bogus self-employment."
In addition to calling for trade union rights and collective bargaining to achieve fair pay rises, the ETUC calls for a wider debate on measures to tackle excessive executive pay. Measures could include
requiring companies to publish CEO/worker pay ratios (as is the case in the USA and as is being introduced in the UK)
giving workers and shareholders more power over CEO/top management pay
reducing stock-market oriented pay and moving towards more long-term and sustainability-oriented pay
a legal cap on pay ratios (or even a cap or levy on excessive pay)
banning pay secrecy in employment contracts.
"The world needs workers to get fair pay rises to drive economic demand and to tackle inequality," added Luca Visentini. "This is true for Europe as well as for other parts of the world."
For more on the Bloomberg CEO pay-to-average income see https://www.bloomberg.com/news/articles/2017-12-28/ceos-in-u-s-india-earn-the-most-compared-with-average-workers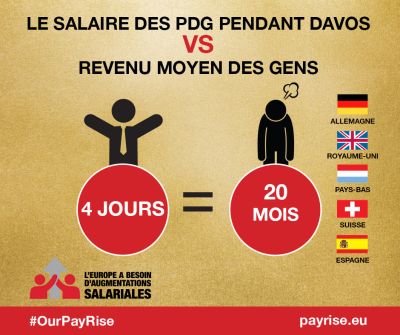 16.01.2018