Today, the European Social Partners Framework Agreement on Digitalisation was signed by BusinessEurope, ETUC, CEEP and SMEunited to support the successful digital transformation of Europe's economy and to manage its large implications for labour markets, the world of work and society at large.
The agreement supports the successful integration of digital technologies at the workplace, investment in digital skills, skills updating and the continuous employability of the workforce. The agreement enables employers and unions to introduce digital transformation strategies in partnership in a human oriented approach at national, sectoral, company and workplace levels, including on the modalities of connecting and disconnecting and respect of working time rules and appropriate measures to ensure compliance.
See the agreement here.
BusinessEurope Director General Markus J. Beyrer said:
"This agreement paves the way for a consensual digital transition of our economies and for more resilience of our enterprises. The relevance of this agreement becomes clear at a time when many workers need to use digital technologies to work distantly. Investment in digital skills is particularly important for Europe's future. It is now up to the national social partners to implement this agreement at the national level. The European Commission should respect the autonomy of the EU Social Partners.
ETUC General Secretary Luca Visentini said:
"Unions and employers at European level have signed an agreement that says digital change should not be imposed by management but managed in partnership with workers and their trade unions. It supports negotiations between unions and employers in each EU country, in different sectors, companies and workplaces."
CEEP General Secretary Valeria Ronzitti said:
"This framework agreement addresses an issue which will be on the agenda of social partners for decades, and should become the basis for joint activities to adapt to the fast-paced evolution brought by digitalisation. Public services and SGI employers need to keep on delivering high-quality essential services no matter the circumstances. Digitalisation should help to achieve this crucial mission. This agreement also sets out a joint process that can be tailored to different industrial relations systems and national, local, sectoral and enterprise situations, while offering a model for social partners to anticipate, discuss, negotiate and monitor concrete solutions to the many impacts of digitalisation."
SMEunited Secretary General Véronique Willems said:
"We concluded the agreement on digitalisation just ahead of a time spurring the use of digital tools during the COVID-19 crisis. Our joint dynamic approach covers all the core areas of social partners' competence, such as training, health and safety, connecting and disconnecting. The recognition of the direct relationship between employers and workers in small businesses and SMEs specificities should facilitate a smooth introduction and continuous adaptation of digital technologies in SMEs and the necessary dialogue for the benefits of both sides".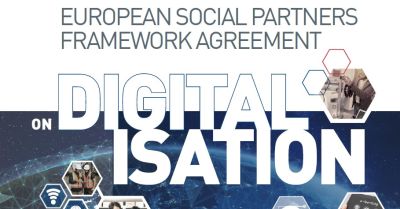 22.06.2020