The European economy is set to recover faster than expected from the Covid crisis thanks to higher EU and national government spending, according to the summer economic forecast published today by the European Commission.
According to the European Commission: EU GDP is on course to return to pre-pandemic levels later this year thanks to growth of 4.8%, which is 0.6% higher than projected in the Commission's spring forecast.  The European Commission explained:
"Private consumption and investment are expected to be the main drivers of growth"
 
"The total economic impact generated by the Recovery and Resilience Facility over the forecast horizon is expected to be sizeable, mainly through higher public and private investment."
The forecast comes shortly after European Commissioner for Economy Paolo Gentiloni said the EU must "open the debate on the [debt] rules", saying in future they must take account of the "need that we have to support growth and sustainable growth."
Commenting on the forecast, ETUC Confederal Secretary Liina Carr said:
"The economy is recovering more quickly than expected thanks to higher spending which has been made possible by the suspension of the EU's debt rules and EU and national job and wage protection schemes. 
"The fact the EU's fiscal rules need to be suspended to facilitate the recovery shows they are fundamentally incompatible with the economic growth needed for decent jobs, just transitions, and living standards.
"It is clear these misguided rules need complete reform before being reactivated in 2023. To bridge the economic gaps between member states and fund the urgently needed transition to a green economy in a way that's fair to workers.
"Commissioner Gentiloni is right to say financial support must continue if we are to keep the recovery on track, particularly when investment is still below pre-pandemic level and total hours worked decreasing since autumn 2020, and the mixed vaccine rollouts and new Covid variants are creating real uncertainty.
"Growth is also being dragged down by a fall in private consumption caused by a drop in purchasing power. That's why raising wages through higher collective bargaining should be an important part of a strong recovery as the economy reopens."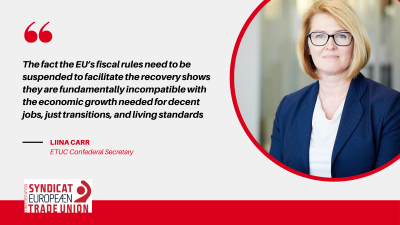 07.07.2021