European trade unions have today secured a third major victory this year against Uber's exploitation of drivers, showing the urgent need for the EU to end the scandal of false self-employment by platform companies.
In a case brought by the FNV trade union on behalf of Uber drivers, the Court of Amsterdam ruled that "the legal relationship between Uber and these drivers meets all the characteristics of an employment contract."
The ruling in the Netherlands follows victories for trade unions against Uber over the same issue in Belgium and the UK, as well as over Deliveroo and Globo in Spain and Italy.
And it comes just ahead of Wednesday's deadline for the second stage of the European Commission's consultation on how to improve the working conditions for people working through digital labour platforms.
The ETUC consultation response calls for a directive which:
Delivers the presumption of employment relationship in all digital labour platforms
 
Reverses the burden of proof over employment status from the worker to the employer
 
Does not include the creation of a third category of worker between employed and self-employed as Uber & co are lobbying for
ETUC Confederal Secretary Ludovic Voet said:
"Today's ruling is the latest in a long line of legal defeats for the exploitative employment practices of platform companies.
"National courts and governments consistently find that platform companies are flouting the rights of workers to proper pay and working conditions.
"It couldn't be clearer that we now need Europe-wide action to put an end to the scandal of false self-employment across all member states.
"The Commission must reject the desperate last-ditch lobbying of platform companies trying to save a broken business model and ensure all workers receive their basic right to fair pay and working conditions.
"Because every digital labour platform is or can become an employer, the presumption of employment relationship and the reversal of the burden of proof are the only policy tools that can protect workers wrongly classified as self-employed on one hand, and genuine self-employed from unexpected changes in their working conditions on the other hand."
Notes
ETUC second phase consultation response: https://www.etuc.org/en/document/etuc-reply-second-phase-consultation-social-partners-under-article-154-tfeu-possible
FNV press release: https://www.fnv.nl/nieuwsbericht/sectornieuws/taxi/2021/09/uitspraak-in-uber-zaak-grote-overwinning-voor-chau 
Court of Amsterdam ruling: https://uitspraken.rechtspraak.nl/inziendocument?id=ECLI:NL:RBAMS:2021:5029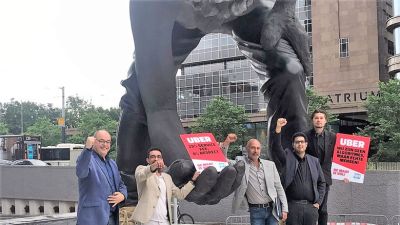 13.09.2021