The European Commission is finally set to present its pay transparency directive on 4 March – 460 days after President von der Leyen took office on a pledge to deliver it "within 100 days."
But now ETUC's hopes for progress on reducing the gender pay gap are being undermined by conflict in the European Commission's policymaking with what seems to be THREE different versions of the draft Directive being leaked.  
A Commission spokesperson recently said that "quality is more important than speed in this case" but the different leaked versions show very different policy solutions being discussed with only a week to go to the draft legislation being published, and the determination of some within the Commission to slow progress on gender pay equality.
A comparison of the three versions reveals at least three major contradictions (and potential obstacles to pay equality):
One version contains no ban on pay secrecy which would make it very hard to achieve even equal pay for women and men who do the same job;
 
One version gives employers the power to determine which jobs can be compared to others when assessing equal pay for either the same work or work of equal value;   
 
No version gives a right to trade unions to bargain for equal pay but instead refer to 'workers representatives' that could include fake unions set up by bosses. This could make it much harder for the Directive to achieve real change.
ETUC Deputy General Secretary Esther Lynch said: 
"The Commission has kept women waiting for action on pay transparency throughout a pandemic which has exposed just how badly jobs mainly done by women have been undervalued and underpaid, especially those whose work has rightly been recognised as essential. 
"Just when we thought the Commission was about to deliver, we see an almighty policy-making battle over women's rights."
"It's alarming to say the least and we have no idea whether the Directive will speed up the painfully slow progress towards gender pay equality, or whether it will be a few steps forward and a similar number back.
"We urge Commissioner Dalli to bring forward a Directive that helps unions bargain for equal pay for men and women doing the same job and to close the gender pay gap between male-dominated and female-dominated jobs."
Notes: 
For ETUC's own model Pay Transparency Directive see https://www.etuc.org/en/pressrelease/unions-publish-own-equal-pay-directive-protest-commission-delay  
For the timeline of delay see https://www.etuc.org/en/pressrelease/commission-goes-year-without-delivering-100-days-pay-transparency-promise   
For a recent ETUC action on the promised 'binding rules' see https://twitter.com/etuc_ces/status/1348910080876552192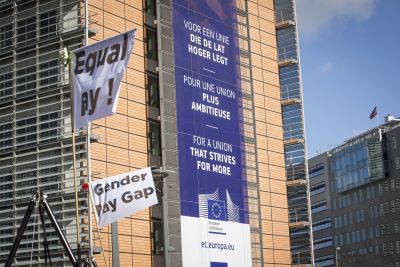 25.02.2021