Reacting to the Financial Times report on UK Government plans to diverge from the Working Time Directive, ETUC Deputy General Secretary Esther Lynch said:
"This is the first major test of the Brexit deal.
"The reported plans would be in clear breach of level playing field rules and the EU must prepare to take swift action and retaliatory measures if necessary.
"Failure to do so would not only mean people in the UK working longer hours for less money, but start a race to the bottom that would put at risk decades of progress on workers' rights in Europe.
"President von der Leyen said the deal would 'ensure that workers' rights are not undermined'. Now she already has to enforce that part of the deal.
"The UK Government says it wants to improve working conditions, but tearing up limits to working time will have the opposite effect."
Notes:
On December 24, Commission President Ursula von der Leyen said of the deal: "It includes provisions to ensure that competition between EU and UK operators takes place on a level playing field, so that passenger rights, workers' rights and transport safety are not undermined."
The UK Trade Union Congress have issued the following press release: Government promised it would strengthen workers' rights – not weaken them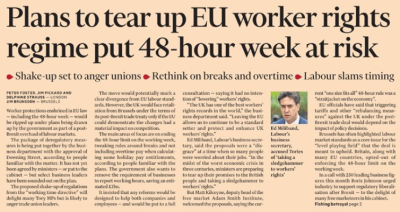 15.01.2021