The European Union has made little progress towards its aim of raising the quality of employment over the last decade and some countries have even gone backwards, new ETUC research has found. 
The impact of EU austerity policies on performance is clear in the ETUC's new Decent Work Index, with Greece, Italy and Spain among the five worst performing countries. The other two, Bulgaria and Romania, show not enough is being done to bridge the economic divide between west and east Europe.
The performance of Greece was worse in 2019 than it was in 2010, while the performance of Luxembourg and the UK was worse than it was in 2015. The top four best performing countries are in the north of Europe: the Netherlands, Denmark, Finland, Sweden.
The index also highlights how GDP has little bearing on decent work. Ireland had experienced high levels of GDP growth in recent years but performs badly in the Decent Work Index because its GDP is based on extremely low corporation tax and government expenditure on social protection.
Lowest performing member states: Index rates countries between 70 and 130
| | | | |
| --- | --- | --- | --- |
|   | 2010 scored | 2015 | 2019 |
| Top performer: Netherlands | 107.9 | 108.1 | 109.6 |
| EU average: | 100 | 100.3 | 101.8 |
| Spain | 94.9 | 92.3 | 97.1 |
| Italy | 94.5 | 93 | 94.8 |
| Bulgaria | 89.7 | 91.9 | 94.7 |
| Romania | 87.4 | 85.7 | 90.8 |
| Worst performer: Greece | 90.8 | 82.9 | 89. |
Decent work and sustainable growth is one of the UN sustainable development goals which the EU signed-up to in 2015.
The report prepared for the ETUC by a team of researchers of the highly respected Italian Alliance for Sustainable Development (ASviS) led by prof. Enrico Giovannini measures progress towards the goal on three measures: economic wellbeing, employment quality and labour vulnerability
Economic wellbeing has got worse in the EU since 2015, while the situation has barely improved when it comes to employment quality or labour vulnerability. 
 
Overall, the report finds that Europe has "barely improved" over the last decade when it comes to decent work.  
Commenting on the report's findings, ETUC Confederal Secretary Liina Carr said:
"The EU has made an international commitment to pursue decent work and sustainable growth.
"But very little progress has been made as a result of austerity policies, which made work more insecure and worsened inequality both within and between countries.
"The EU needs to fundamentally rethink its economic policies, prioritising decent work as it has promised and ending overly rigid controls on public investment that drives fair economic growth.
"That has to start with a peoples' recovery from the pandemic in which the EU and member states use all resources necessary to protect workers and companies from a recession that would make reaching the UN goals impossible."
Notes: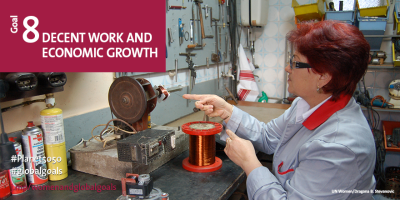 30.03.2021