*We have updated this article, removing mention of Sanef, in light of the ETUC becoming aware of a 16 February ruling 2023.
Companies named and shamed today for violating workers' rights in Europe have received more than a billion Euro in EU funding.

The Global Rights Index published by the International Trade Union Confederation lists 15 companies who they have found to have flouted labour law or ignored workers' and trade union rights over the last year.

The concerns include a range of violations, part of union-busting tactics used to suppress wages and working conditions, which include the sacking of workers, disciplinary action against union members and refusal to respect the right to collective bargaining.

Despite that, the majority of the companies named have received huge sums in EU funding over the last decade, research by the European Trade Union Confederation (ETUC) has found.

EU funding since 2014 for companies named in Global Rights Index 2023
| | | |
| --- | --- | --- |
| Company | Funding | Number of contracts |
| Ryanair | 962,000,000 | 31 |
| TUI | 31,800,000 | 5 |
| Amazon | 29,490,000 | 199 |
| IKEA | 28,710,000 | 2 |
| CWS Hygiene | 8,190,000 | 12 |
| Nexteer Automotive | 5,987,000 | 3 |
| Therma Sp. z o. o | 1,075,432 | 1 |
| KCP Sp. z o.o | 61,575 | 1 |
The ETUC is calling for a revision of the rules on public procurement to ensure that only companies which respect workers' and trade union rights, negotiate with trade unions and whose workers are covered by collective agreements are eligible to receive public funding.

Nicolas Schmit, the EU Commissioner for Jobs and Social Rights, told the ETUC's Congress last month: "If you do not pay the right wages, if you exclude the unions, if you refuse to have collective bargaining, you cannot be part of public procurement because this is public money and it cannot be spent on those who do not respect the law."

The policy would help restore workers' right in Europe, which have "deteriorated" over the last decade as "basic rights were violated in most countries", according to the new Global Rights Index.
In particular, the index states: "Collective bargaining rights were severely trampled in most countries."
ETUC General Secretary Esther Lynch said:

"Workers' rights abuses are increasing across Europe, meaning lower wages and worse conditions for millions of people, and shockingly we're rewarding the bosses behind these violations with lucrative public contracts.

"It's a disgrace that companies named and shamed today by the International Trade Union Confederation for violating workers' rights have received more than a billion in EU funding.
"But this is only a snapshot of an approach to public procurement which is driving a race to the bottom.

"It's time to take union-busting bosses off the payroll and ensure that only companies which act in the public interest are eligible to benefit from public funding."

Notes

Sources for EU funding:

European Commission funding database: https://ec.europa.eu/budget/financial-transparency-system/analysis.html
Polish Government database of EU funded projets: https://mapadotacji.gov.pl/projects

Details of rights violations:
On 28 November 2022, Dariusz Kawka, leader of NSZZ "Solidarność" in IKEA Industry Poland Ltd. and a member of IKEA European Works Council, was dismissed from his job on disciplinary grounds without a notice period, despite his union activity, which protects him from dismissal without prior approval of the company's trade union organisation. After an inspection by the State Labour Inspectorate, it was reported that the employer had grossly violated labour law. Despite the union exchanging letters with the employer, including the corporation's board of directors, and many other actions to protect Dariusz Kawka from dismissal, the employer refused to reinstate him.
This union-busting tactic was also observed in other companies, such as Nexteer Automotive Poland and KCP Ltd.
In Poland, violations of collective bargaining rights by employers were extremely frequent, including undue delays, refusal to negotiate or to apply the provisions of an agreement, and unilateral termination of a collective agreement. At KCP Sp. z o.o, a motor vehicle parts manufacturer, management has refused to engage in collective bargaining with the company trade union for two years. Instead, the company started individual talks with selected people. Similar anti-union behaviour was seen in CEDC International Sp. z o.o. Polmos Białystok Branch, Therma Sp. z o.o, Distribev Ltd, and Stellantis Gliwice.

More details: https://www.globalrightsindex.org/en/2023/countries/pol
During the national strike of 9 November 2022 in Belgium, following a blockage of the company CWS, a sanitation and hygiene service provider, a formal notice was sent by the employer to two workers with a threat of dismissal and a claim for compensation of €24,000 (US$26,300) for alleged loss of earnings due to the strike. Following the intervention of the unions, the company finally withdrew the compensation claim, but maintained the disciplinary sanction against the two employees.

More details: https://www.globalrightsindex.org/en/2023/countries/bel
In June 2022, due to the refusal of the Irish-based airline Ryanair to negotiate with the Unión Sindical Obrera (USO) and the Independent Union of Airline Passenger Cabin Crew (SITCPLA), the workers began a strike at the headquarters in Spain. Unions were denouncing the airline's repeated breach of the labour laws and the company's refusal to enter into a collective agreement. Ryanair retaliated by dismissing 22 workers and opening disciplinary measures against striking workers.

More details: https://www.globalrightsindex.org/en/2023/countries/esp
In the Netherlands, employers often negotiated with yellow unions or the companies' works council to adopt pay cuts. For example, travel company TUI refused to enter into collective bargaining with The Federation of Dutch Trade Unions (FNV), despite a petition to do so by hundreds of workers. Instead, TUI intended to enter negotiations with its own established group. The FNV had to seek remedy in court.
There is no legislation in the country ensuring that only independent trade unions are allowed to conclude collective agreements, or that trade unions take precedence over works councils. As a result, where unions decide on a collective action in the context of a negotiation, employers can undermine the union's position, simply by concluding an agreement with yellow unions or works councils.
More details: https://www.globalrightsindex.org/en/2023/countries/nld
* Following the judgment of the Versailles Court of Appeal of 16 February 2023 (RG no. 22/07492), which overturned the interim injunction issued by the Nanterre Court of First Instance of 12 December 2022 ordering SANEF to suspend minimum service requirements in the event of a strike, we are updating our publication.
As the Court of Appeal ruled that no manifestly unlawful disturbance could be characterised on the basis of the grounds that were raised, we have updated this article to remove reference to the SANEF group within the list of companies prosecuted for violating the right to strike.
As a reminder, article 14 of the decree of 1 September 1980, annexed to the concession agreements between the French State and certain motorway companies, allows implementation of a minimum service "to enable traffic to be maintained in good safety conditions in the event of a strike by the employees of the concession company."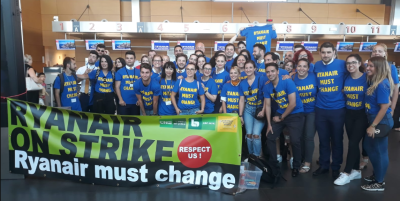 30.06.2023