Commenting on the Energy Council's agreement on measures to limit excessive gas prices, ETUC Confederal Secretary Ludovic Voet said:
"With energy bills now costing more than a month's wages in more than half of EU countries, any measure to limit excessive gas prices is good news.
"Given the severity of the crisis facing workers and their families this winter, it is regrettable though that it has taken so long to find agreement and that the price cap is also set so high that the already unaffordable prices would still fall below it. 
"Fundamentally, the mechanism doesn't tackle the root causes of speculation in the energy market. We still need a real reform of the energy market and price setting mechanisms which reflect the fact that energy is a necessity not a luxury.
"Energy prices are the number one cause of inflation that has created the cost of living crisis. As well as the war in Ukraine, that is in large part due to price speculation by energy giants.
"It is therefore bewildering to see President Von der Leyen today thanking the CEOs of energy companies for 'keeping us safe' this winter. The millions of people who can't afford to put the heating on despite working long hours will find it very difficult to square her comments with reality when companies like Total made 700 Euros profit every second in the third quarter of 2022.
"It's time Europe focused on ensuring our energy system is focused on protecting people and not profits."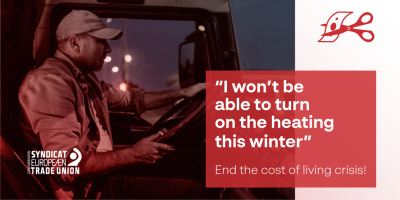 20.12.2022