Commenting on the publication of the EU economic policy 'semester' winter package and country reports, Katja Lehto-Komulainen, Deputy General Secretary of the European Trade Union Confederation (ETUC) said:
"By criticising aggressive tax planning, expressing concern about low wage increases and encouraging better social protection it seems as if EU economic-policy making might be shifting in a more progressive direction. But the proof will be in May when we see if the country specific recommendations are still about budgets and fiscal rules or if they take on social fairness.
"The ETUC congratulates Commissioner Moscovici for naming and shaming EU countries for aggressive tax planning. As the Commissioner said, more needs to be done to ensure fair taxation. The ETUC urges the Commission to pursue all means to end tax avoidance and tax competition, and to ensure that companies pay their fair share of tax in the countries where economic activity takes place. Tax regime-shopping has to stop, and governments should play no part in encouraging it.
"It is good news that four countries have left the excessive imbalance procedure, as this gives more room for investment in jobs and growth.
"It is good that Commissioner Thyssen acknowledged that wages are not increasing as much as they should be. The question is what the Commission and member states intend to do about it. The ETUC calls on the Commission to recommend pay increases in the public and private sector, and to propose national reforms that enable negotiations – and collective agreements - between employers and trade unions at sectoral level. Countries that do not have favourable legal frameworks for collective bargaining should be told to reform in favour of fair wage bargaining.
"The ETUC supports all moves by the Commission to encourage stronger social protection, and its extension to those not traditionally covered such as the self-employed. The first test of the Commission's intentions comes next week with the publication of its recommendation on access to social protection, and needs to be followed up in the country specific recommendations.
"The use of a 'social scoreboard' to inform EU economic policy-making is welcome, and we expect the results to be reflected in the national reform plans and actual country specific recommendations, and not just in nice words in the text accompanying the recommendations. To keep moving EU economic policy-making in a more progressive direction, employers and trade unions need to be better involved in all EU countries."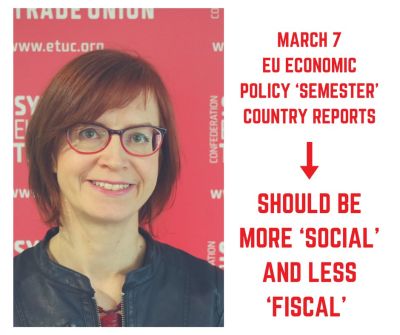 07.03.2018