Commenting on the widely leaked and reported Sibiu declaration, Luca Visentini, General Secretary of the European Trade Union Confederation said:
"We can support all 10 principles, although they are very general and contain no concrete proposals for action. "The statement in support of European unity, democracy and rule of law is useful in these days of populist, strong-man and anti-European politics. It is a pity no mention is made of dialogue with social partners and civil society.
"What really matters is what happens next. The summit in Brussels in June needs to start turning principles into action.
"The Council should call on the Commission and Parliament to strengthen current efforts to boost investment and reform EMU and EU economic rules, to propose an action plan for the implementation of the European Pillar of Social Rights, and new initiatives for fair mobility and migration, and socially just transitions to a carbon neutral and digital economy. They should especially demand new measures to close the east-west pay gap with higher wages for all through increased minimum wages and stronger collective bargaining."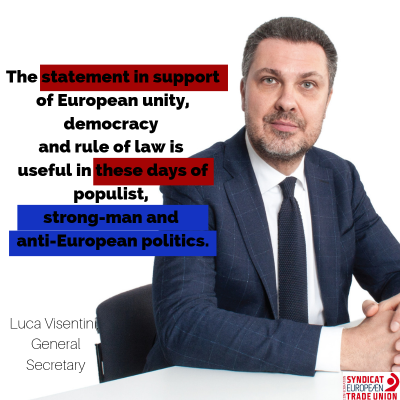 09.05.2019