The adoption of Council Conclusions on The changing world of work: reflections on new forms of work and implications for the safety and health of workers at today's EPSCO meeting establishes a good foundation for the incoming European Commission to work on, commented the ETUC's newly elected Deputy General Secretary Per Hilmersson.
"These conclusions are positive and constructive, explicitly linking occupational health and safety and working conditions to emerging forms of work that pose a risk to both the quality of the jobs our economies create and the health and safety of the workers that do them. These related challenges are likely to increase as labour markets are transformed over the coming years.
"We welcome recognition that 'work-related musculoskeletal disorders and psychosocial risks are the most common causes of sick leave', and the strong emphasis on employers' obligations to protect workers' safety and health," he added. "These are both trade union priorities for the coming years, included in the ETUC Action Programme (2019-23) adopted at our Congress in Vienna two weeks ago. As we celebrate the 30th anniversary of the OSH Framework Directive this week, it is important to highlight employers' obligations."
The EPSCO Council also approved the Regulation setting up the European Labour Authority.
"The establishment of the ELA represents an important step forward in the fight against cross-border social fraud and for effective enforcement of EU rules on labour mobility, social security and the posting of workers, as well as implementation of the European Pillar of Social Rights" said Per Hilmersson. "All cases brought to the attention of the ELA by trade unions must be followed up, and the authority must play an active role in tackling bogus self-employment and letterbox companies."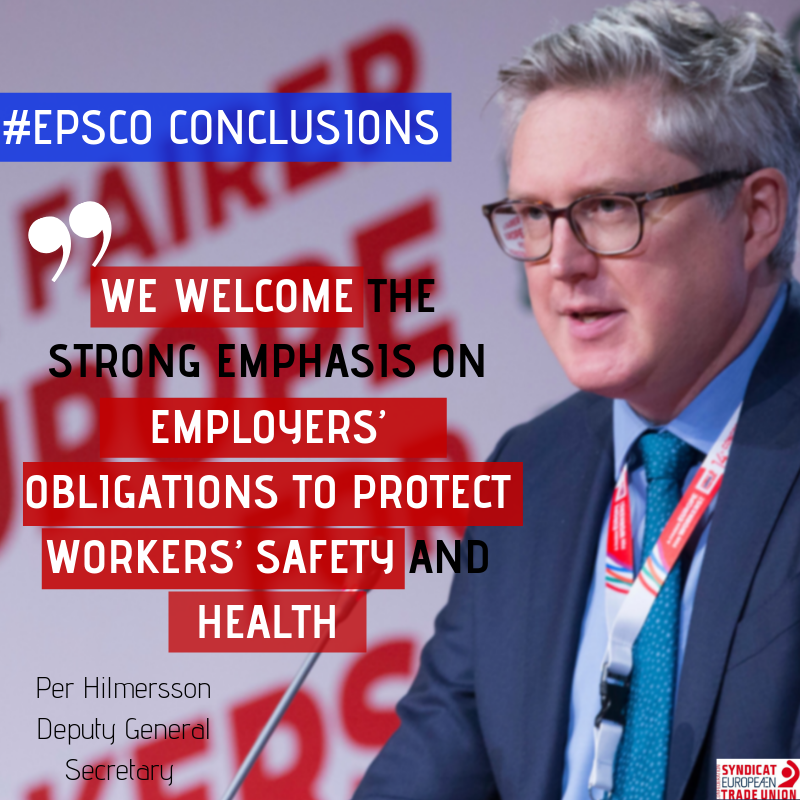 13.06.2019