Responding to the European Parliament's approval for the new European Commission, ETUC General Secretary Luca Visentini said:
"The process of forming the new Commission has been beset by problems from the moment that lead candidates in the European elections were disregarded as potential presidents.
"Now the Commission has finally got over the line, it's time to get on with delivering the big promises it has made for its first 100 days.
"We look forward to seeing all European workers benefiting from fair minimum wages, binding pay transparency and a green deal that leaves nobody behind.
"Trade unions are ready to work with the Commission in delivering on these and other policies that will create a fairer Europe and we will meet President von der Leyen in December to present her our 15 priorities for the future of Europe."
The ETUC's 15 priorities can be found here: https://www.etuc.org/en/document/15-etuc-priorities-new-mandate-eu-institutions
Poll results published today show the ETUC is speaking-up for the priorities of European citizens. The 12,000 people surveyed said the environment, jobs and social security were their top priorities for the new Commission, while the cost of living was their number one concern for the future.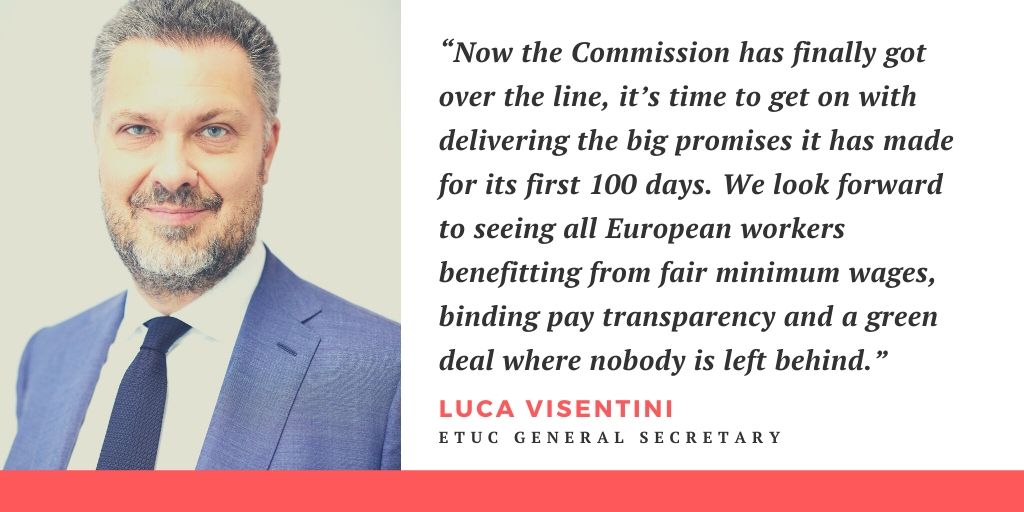 27.11.2019