The Legal Affairs Committee of the European Parliament will vote on Monday on the agreement reached between the European Council, Commission and Parliament on the Directive on cross-border conversions, mergers and divisions, part of the so-called Company Law Package. A Directive to regulate cross-border restructuring processes is important and the result of the negotiations contains some improvements. However, the agreement falls short of what the ETUC called for: ensure adequate safeguards against letterbox companies and more information, consultation and participation rights for European workers.
The initial proposal from the Commission delivered new opportunities to companies without introducing new tools for workers to have a say on company cross-border restructuring processes and adequate safeguards against letterbox companies. The excellent report of the European Parliament introduced substantial improvements. As in several other cases, the Commission and the European governments opposed however the ambitious proposals from the EP, which would have brought about  a more democratic directive.
"The final result is better than the status quo" said Peter Scherrer, ETUC Deputy General Secretary, "because it regulates the cross-border conversion and division procedures of companies, but it falls short of the improvements which were necessary".
"It is now of paramount importance that the next European Commission and Parliament finally deliver what is needed for workers: a new framework for information, consultation and board-level participation rights and effective instruments against letterbox companies and artificial arrangements. After all the scandals of evasion and avoidance by companies and 10 years of stand-still at European level on democracy at work, workers cannot wait any longer".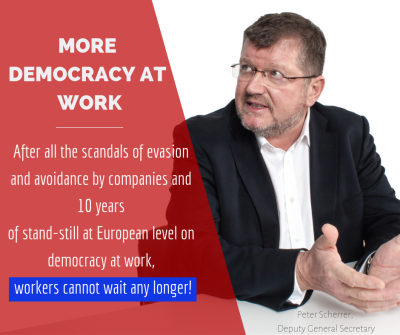 29.03.2019