As the 'European Year of Youth' draws to a close without delivering any concrete action, young trade unionists today protested at the European Parliament for a ban on unpaid internships.
The ETUC used a wheel of fortune to show how lucky – or in most cases privileged - young people have to be to land a quality internship.
Banners reading 'motivation doesn't run on an empty stomach' and 'can you afford to work for free?' were present at the demonstration which was also supported by the European Youth Forum.
The European Parliament voted overwhelmingly to ban unpaid internships earlier this year.
The issue is on the European Commission's work programme for 2023 but the ETUC is campaigning to ensure that the Commission delivers a binding directive.
The first step towards delivering a direction, a consultation with social partners, should start as soon as possible.
ETUC Confederal Secretary Ludovic Voet said:
"Unpaid internships are a discriminatory practice that only a few can afford and many more are left behind.
"But money is not the only factor, for an internship to be fair it must have more than remuneration, it must be fair remuneration and it must guarantee fair treatment after the end of this working experience.  
"The European Year of Youth is almost over and there is no binding action or measure that would guarantee concrete improvements in the situation of young people.
"A quality internship shouldn't be a stroke of luck. The Commission needs to make sure the European Year of Youth has a positive legacy by bringing for a directive on quality internships."
Notes
Photos of the demonstration can be found on the ETUC's Flickr account.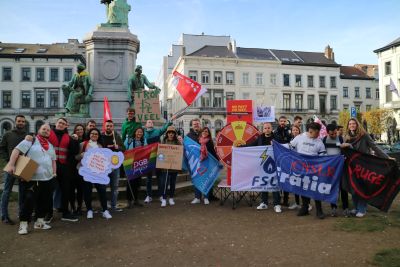 10.11.2022