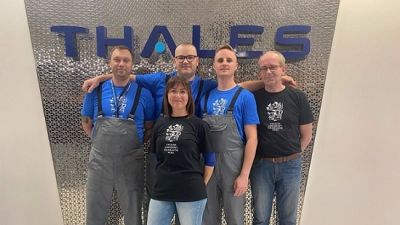 Workers at the Thales Digital Identity and Security (DIS) printworks in Poland have joined together to set up their own branch of the ZZP union, with the support of Thales trade union organisations from across Europe.
The staff at the Tczew facility in the north of the country print highly sensitive ID documents such as passports. The union was launched after months of preparation with a membership of 50 people. Now, more than 100 workers have signed up, and the number is growing steadily. With inflation rising to 16% in Poland and a cost-of-living crisis affecting people across Europe, more and more workers feel an urgent need to organise in trade unions and to engage in collective bargaining.
"The colleagues are committed to launching a good social dialogue and the mood is very positive. We are united and the support from fellow unions elsewhere has been great. Now all our focus is on getting our relationship with management off to a constructive start. We are confident that management will welcome our initiative, given the high-quality social dialogue that has been close to the heart of the Thales group and the constructive cooperation shown by our fellow unions across Europe," said Andrzej Mirau, secretary of the new union.
Meanwhile, staff at Apple's retail store in Glasgow have made history by becoming the first company outlet in Scotland to win trade union recognition, with a clear majority of two-thirds support in a statutory ballot.
"This is an absolutely historic moment and testament to the hard work of the activists and workers at the Buchanan Street store. It's another compelling new chapter in the trade union story that's being written across the world at Apple," said John Slaven, GMB Scotland Organiser. 
Read more (Poland)
Read more (Scotland)