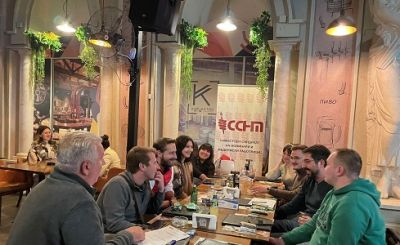 The Independent Trade Union of Journalists and Media Workers (SSNM) of Macedonia has been working with international trade union organisations to help young journalists address the challenges posed by digital media and understand the benefits of joining a trade union.
The SSNM has organised meetings, lectures and visited media run by young journalists, with the support of the Union to Union project. "The best results are achieved through face-to-face meetings supported by a range of other activities, in which young journalists are engaged and given an opportunity to speak about their problems freely," said SSNM Programme Manager Darko Duridanski. "When they are the focus of the activity, they have a real sense of belonging to the union."
The SSNM has recruited more than 20 new young members and launched a project to design a new campaign: 'I want fair working conditions', aimed at raising awareness of labour rights. One particular success was at Radio MOF, where some of the young journalists were originally against unionising, but after the meeting they became members of SSNM. 
Photo: SSNM.