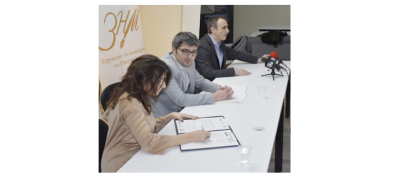 The Trade Union of Macedonian Journalists and Media Workers (SSNM) has teamed up with the Association of Journalists (AJM), the Council of Media Ethics, NGO Onlimit Media and news portal Vidi Vaka to sign the European charter on journalists' working conditions.
The Charter, drawn up by the ETUC-affiliated European Federation of Journalists (EFJ) in 2019, underpins workers' rights, freedom of expression and ethical and professional standards, setting a framework for new online media organisations.
"We hope that this initiative will help to raise awareness that social and economic stability as well as proper working conditions are prerequisite for professional and objective journalism. Only journalists with integrity can play their watchdog role in the public interest," said Darko Duridanski, SSNM project coordinator.
At the same time, the SSNM has signed its first collective agreement with news agency MIA. It includes guarantees on freedom of information and protection against arbitrary lay-offs, establishing a tripartite committee including a trade union representative.
With affiliate unions in Belgium, France, Montenegro, Germany, Finland and Spain, the EFJ has also launched a new project on Trust and Quality in Journalism, working with the European Broadcasting Union (EBU) and the European Newspaper Publishers Association (ENPA) to assess the impact of technological, political and economic developments on the media.