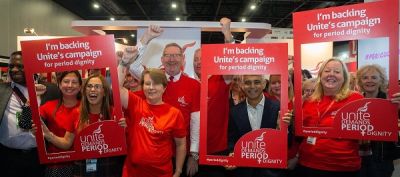 Unite the union has launched a 'Period Dignity' campaign to secure access to sanitary protection in workplaces across the UK.
The campaign includes a range of communication materials including a video and tools to help union members encourage employers to support the campaign and provide free tampons and pads in staff toilets.
"This is an issue that affects all women of all ages no matter their race or economic background," said campaign leader Suzanne Reid from Unite's East Yorkshire and Humberside region. "Everyone should have access to sanitary products."
Regional Secretary Karen Reay explained that Unite wants to send a message of dignity and equality. "Every woman has periods – without them, we can't have children," she pointed out. "Alongside this most natural of processes, women deserve dignity. It's a campaign that many think – why hasn't anyone done this before?"
The campaign has the support of Unite General Secretary Len McCluskey and London Mayor Sadiq Khan (pictured).